We adopted Gidget in February. She is a 2 year old Pit Bull. I was searching the internet to help my mom find a new kitty friend. I came across Gidget's profile on a a rescue's website and fell in love. She is severely cross-eyed and needed a little extra love and patience. Our other dog Paige is so easy going and smart, so I felt that she would be a good companion for Gidget.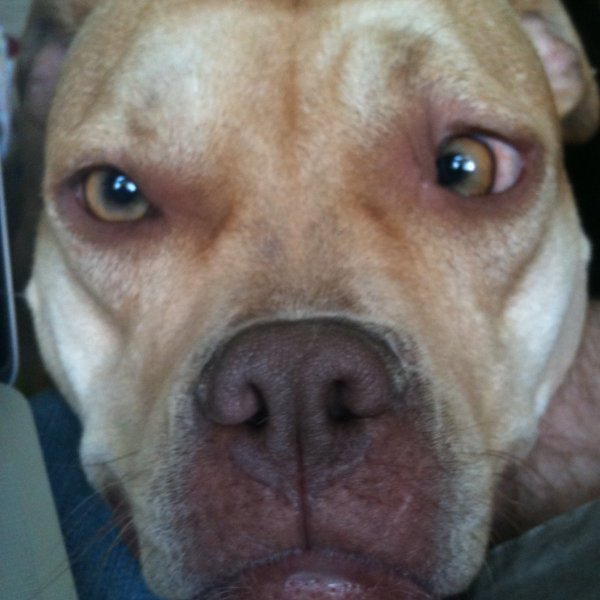 After meeting her, I knew we were the right family for her. Our lives will never be the same now that Gidget is in our home. She is sweet, goofy, smart, and cuddly. There is not another dog like her! In addition to being cross-eyed, she has hip dysplasia, a severe under bite that tends to cause her teeth to get stuck outside of her lips, and unbridled energy. Her vision impairment does not slow her down, although I wish it did sometimes because she has a tendency to run into things at full speed.

She snores extremely loudly and makes a noise when she is excited that can only be described as "a seagull in distress". :) She absolutely loves to wear sweaters and generally will not leave the porch when it is cold if she doesn't have one on. We have yet to find a toy that can withstand her chewing ability, not even the toughest "power chewer" toys can last more than a few days.

She lived the first part of her life as a dog that no one wanted, but she has become a dog that is unconditionally loved! She is not just adored by us, Paige has a new best friend and the cats are so patient with her, even when she pounces an inch from their face in hopes of getting them to play.
By lalala... from Port Orchard, WA