I want to buy a bread machine. I have done some research online, but wanted to know if anyone had any recommendations?

Teri from IA
Answers:
Recommendations for Bread Machines
I had a Welbilt for many years and it served me well. Two years ago I saw a Zojirushi and liked the looks of it so my husband got it for me. I absolutely love it! It has so many features that are great. I love to set it the night before and wake up to the smell of baking bread. It makes 1 1/2 pound loaves which is just right for us. Investigate their web site. (01/24/2009)

By Glenn'sMom
Recommendations for Bread Machines
A lot of those are turning up in thrift shops, and you can download the book for the particular brand you find. (01/26/2009)

By kimhis
Recommendations for Bread Machines
I purchased a bread maker from Walmart.com shortly after Thanksgiving. It is a Sunbeam. We got it for $40-something. Now, we make 2 or 3 loaves of bread a week and never buy bread anymore!
I have been really pleased with this bread maker and would recommend it! (01/27/2009)

By majorw
Recommendations for Bread Machines
I am on my second Black and Decker. Great product! I use it for breads and pizza dough (and I even use the pizza dough for flat bread). It has survived falling off the counter on to the ceramic floor. (I used wholewheat flour and should have put more water in the recipe).


I am on the 2nd one because I left the paddle in a loaf and threw out the leftovers. Oops. (The bread maker was too old to find the part.) Now I always take the paddle out as soon as the bread is cool enough.

I use leftover bread for bread crumbs. I have even experimented making pasta dough with it.
My daughter has a Salton Breadmakerand likes hers, too. (01/27/2009)

By Cool Cook
Recommendations for Bread Machines
I have an Oster. I got it in March and am very pleased with it.
I bought my previous two machines at thrift shops. One lasted for two cycles. The other never worked on the bake cycle.
I paid $50 on sale for my Oster. (01/27/2009)

By Judy
Recommendations for Bread Machines
I have a Fast Bake Breadmaker by Morphy Richards, but I do live in England. It's the best thing!
I got mine free on Freecycle so I didn't pay a thing. (Go to www.freecycle.org to join up in your local area.)

For 1.38 pounds for 1.5Kg of wholemeal flour I get about 5-6 loaves of bread.
I am baking now and the smell in the kitchen is delicious.

One tip, if you do get one, is to pre-bag all the dry ingredients except the skimmed milk powder. Saves me a lot of time and mess. I pre-bag (Ziploc bags) them once a week.

Over here the cheapest wholemeal loaf is 52p (a little over a dollar) so you can see how much money I am saving, too. And the bread is awesome!
The picture is of my first loaf I made, now they look better now I know the machine. Good luck to you. (01/27/2009)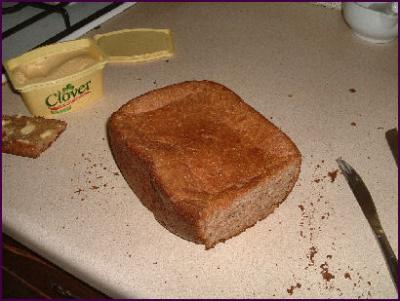 Recommendations for Bread Machines
Oh, and with the Fast Bake Breadmaker by Morphy Richards you can set it to start baking before you get up in the morning.
Just place your ingredients inside the machine, put the yeast in last, (make a little hole in the flour for it to sit in) and set. Then you have warm bread to wake up to.
I haven't tried this yet, but my mum says it works perfectly (she has the same machine!)
(01/27/2009)

By Monique63
Recommendations for Bread Machines
I have the Black and Decker All-In-One Horizontal Bread maker. You can set delayed bake so it will start before you wake up and it will be ready when you want. You just add ingredients in the order they tell you and turn it on. 4 hours from start to finish if regular and french bread. 1 hour 10 min for fast breads. Also does jams, desserts, you can also do just dough and then you can bake it. Brown crusts, light or dark in the bread maker too, which was a surprise. Let us know what you got. (01/27/2009)

By Sharon
Recommendations for Bread Machines
I would definitely check out thrift stores. I bought a Breadman at Goodwill for $10.00 and am very happy with it. My sister got a Oster for $10.00. Goodwill gives you 10 days to return an appliance if it does not work properly. I make 2 loaves a week, and have not bought bread since getting it. (01/27/2009)

By WIsgal
Recommendations for Bread Machines
The paddles tend to leave a large gaping hole in the bottom of the loaf and when I say large, I am not exaggerating. What you need to do is research to discover the models that don't have that great big hole.

With our old breadmaker, we'd make a loaf and find that after you take off the ends and the slices with the large holes, there wasn't much left for sandwiches in a lunch box. (01/28/2009)

By cookwie