It's so amazing to see my lifelong lifestyle-frugality becoming so popular, especially after the mass consumerism of the 90's. At one time early on, I was a single mom with 3 children, but it started even before that.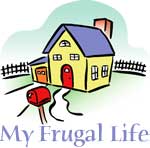 I was never too good to wear hand-me-downs, as long as they fit and were attractive. I had an aunt who was a clothes horse, and she always shipped her cast-offs to us. She and I were about the same size, except she was 4 inches shorter. I learned early on how to do the camo bit on let out hems, etc.
Then, garage sales hit the fan and I could not believe what beautiful and usable things people sold for pennies on the dollar. I then discovered consignment shops. While not as inexpensive as garage sales, they were much cheaper than retail, and the items were usually far and above garage sale items.
Enter thrift stores. These wonderful oases of frugality are nirvana to us cheapskates.
My favorite thrift store sells most items for a dollar. Men's shirts, jackets, trousers, women's and children's clothing for a dollar, and books-craft, sewing, cookbooks, travel books for $1 or less. Popular magazines are 25 cents each. Sewing patterns for a quarter. Pieces of fabric, both large and small, beautiful and hideous, at $1 per yd.
And never mind if clothing you fall in love with is too small or too big, I take it home, take it apart, and remake it into something I can wear.
Men's shirts (the larger the better) make beautiful full aprons with matching pot holders or oven mitts. Denim apparel (again, the larger the better) are morphed into aprons, pot holders, purses, totes, coin purses, or make-up bags.
I am limited only by my imagination.
Two days ago I bought a faux suede cloth shirt jacket, a matching border printed skirt, a blouse, and a 2 piece dress for $5. Yes, the skirts need a little work, but there is enough fabric in each to accomplish marvelous things and still have enough left over for some fashion doll clothes.
I think it's been almost a year since I've been to the mall. And my bags of birthday and Christmas gifts are growing as I wade through my fabrics, patterns, ideas file, trims, buttons.
Speaking of buttons, always check those expensive little pieces. I bought a blouse for $1 that had 7 beautiful buttons that would have cost $10 had I bought them on cards at the fabric store.
Three years ago, I desperately needed a new winter coat. While at the DAV thrift store, I found a gray wool coat with a hood (a necessity for me) for $5. It needed a new interlining and lining, buttons and buttonholes (the person making the coat had closed it with hook and loop tape). I bought it, pawed through my stashes and finished doing the needed work with the only additional cash outlay being on bias binding and matching thread. Oh, the compliments I've received on that coat!
Keep your eyes open and your creative juices churning and it's amazing what might fall into your lap for pennies on the dollar.
By EMB from Springfield, MO
Do you have a frugal story to share with the ThriftyFun community? Submit your essay here: http://www.thriftyfun.com/post_myfrugallife.ldml