June 10, 2008
0

found this helpful
I read in Mother Earth News a long time ago that mice and rats don't burp, so putting down sodas that attract them, make their insides "pop" for lack of a more graphic expression. Try it, or google "pest control" and see if you can get some help there. I spent a lot of time in Alaska, and they hang 5 gallon buckets from hooks on their porches, and grow tomatoes out the bottoms and flowers out the tops. If you can make your tomatoes inaccessable, that might help, too. Good luck.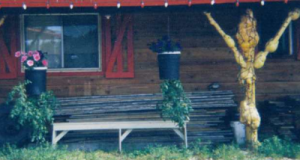 By Nance (Guest Post)
June 12, 2008
0

found this helpful
Many animals hate citrus smell. Maybe you could put lemon peels near your ripe tomatoes. Also, you could make a solution from blended garlic, hot peppers, and a little cooking oil to make it stick, and coat your tomatoes with them.
(Just an idea - good in theory, but I don't know if it'll work.) Good luck!

Vi Johnson
Silver Post Medal for All Time! 288 Posts
June 12, 2008
0

found this helpful
Maybe get a couple of big cats ??
GG Vi
By (Guest Post)
June 13, 2008
0

found this helpful
I use taller cages, make some with chicken wire or some smaller hole openings.
By Bobbie (Guest Post)
June 19, 2008
0

found this helpful
I am having the same problem! I don't know what to do. They are eating MOST of my tomatoes. My dogs can't catch them. Don't know what to do! Distressed in Texas
By Cindy (Guest Post)
July 3, 2008
0

found this helpful
Sprinkle red pepper around the plants. My mom swears it works. I'm having the same problem and am going to try it today.
By lolly. (Guest Post)
August 25, 2008
0

found this helpful
I tried chili powder all over tomatoes. It just made them hungrier. This is the first year that I have had this problem. Interestingly they go for my big tomatoes and not the cherry ones.

PENNY K
Bronze Feedback Medal for All Time! 107 Feedbacks
July 23, 2009
0

found this helpful
This might be the time to grow upside down tomatoes. You don't have to buy the kits. You just have to figure out some way to string/hang some container that you can punch a hole in on the side or bottom.
Or use a heavy plastic/feed bag of some kind. Strong wire of some sort is also needed. Sounds awful. Do you live in city or rural area?

September 8, 2010
0

found this helpful
I guess I am a failed christian cause these rats need to be sent to _ell.They are eating my larger tomatoes without pulling them off the plant. I ruled out other critters, as I and my dog have hunted during the day and into the night.They are not deer, rabbits or other critters.
I used red pepper and it worked for 3-4 days If I added salt, they would have a feast. I (sorry) peed on my fence along the outer borders of the plants and it worked for about a week, I don't know if rats smell, but I will put a work shirt posted in my garden, pee some more, add more pepper add some traps and do all I can to send them to _ell.
All I care about is having a nice home grown tomato sandwich before I go to -ell; there I will find a way there to make Mickey and this friends pick another dinner source and leave my fritting tomatoes alone.
Jim