By (Guest Post)
January 19, 2005
0

found this helpful
I think Kinko's has a process for making an iron-on transfer from your picture.
By Julie Kolvek (Guest Post)
January 19, 2005
0

found this helpful
Go to your local craft store and get a cigar box,handle,and anything else you want to decorate it with.
Get whatever picture you want on it and you can do a search online for directions.
You want to decoupage,which is really easy once you get the hang of it.
Good Luck!
By Linda (Guest Post)
January 19, 2005
0

found this helpful
Use document protectors and make a purse out of them. They can be sewn together on sewing machine. Linda
February 2, 2005
0

found this helpful
There are washable colorfast fabric sheets for your ink jet printer (www.junetailor.com). You can print whatever you would like on these and sew them into a purse using strips of fabric around the pictures like a frame.
I found the fabric sheets at Wal-mart in the crafts department.
June 3, 2005
0

found this helpful
I have some magazine purses on my website you can look at for example:
You can go to your local copy center and have pages laminated and then sew them together. Have fun!!!
By Lyn (Guest Post)
October 21, 2005
0

found this helpful
I've seen the purses using the laminate covering. Do you know if i wanted to sew some on a machine, is there a special thread or needle required that would make the sewing go earily?
By Sally (Guest Post)
January 13, 2006
0

found this helpful
There is a company in Arizona that makes purses out of photos. The website is hazelfunk.com but it doesn't look like the site is done yet. I bought a purse at a boutique from the company.
By Lynda (Guest Post)
December 31, 2006
0

found this helpful
I found a deep white wire basket curbside in perfect condition, originally from the
container store, and now stuff tissue into each purse, placing them carefully in the basket side by side according to color, hanging the bulkier shoulder strap bags on one of my chrome wall hung shoe rack loops. It works VERY well for me, all neatly inside one of my walkin closets. Give you any ideas
By Alicia Marchildon (Guest Post)
February 10, 2007
0

found this helpful
Check out http://www.flashbagsonline.com
Their bags have images covering every panel of the bag and very cool stitching over the whole thing. They are definitely different than many of the other "mag bags" out there. They might be able to do James Dean???.....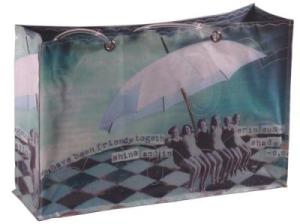 By (Guest Post)
November 15, 2007
0

found this helpful
On the net at henrietta's handbags You can purchase panels made of the picture you send them to make purses. They also have patterns to make different size and types of purses to use the panels on.
The patterns are $20.00 , and you get the panel along with . You make the purse out of your own fabric.