November 13, 2010
0

found this helpful
It is difficult to tell you how to arrange the room when we don't know the dimensions of your furniture. I think something that would help you a lot is to hang curtains over the closet door, down to the floor, so it looks like a window, then you can place furniture in front of it. Once the door is covered, I believe you can come up with some good idea of how to arrange it. Of course you would have to store items in the closet that you don't use often. I did that once with a front door in an apartment we were renting, it was the only way I could make a nice furniture arrangement.
November 13, 2010
0

found this helpful
I so understand your dilemma. I live in an old farmhouse, built in the 1880's and almost every room has at least a total of four doorways and windows which can be challenging to arrange current day furniture about. But hey, the fresh air, cross ventilation from these windows and doorways is excellent on a fair weather day and can't even be imagined by "modern" homeowners and we've absolutely no complaints about that advantage. :-)
If the room, your den, is big enough to move things like chairs, tables, small desks, towards the middle of the room (small cluster, conversational area) you could add accessible, floor to ceiling, not very deep, shelving or cabinetry along the walls (between doorways and windows) for more storage if needed. I would suggest keeping as few pieces of large furniture as possible in this room.
I know a lot of decorators do so, but as a practical matter, I am NOT in favor of blocking doors or windows with furniture. It's been my experience that every time I've done so, it's come back to bite me when I've needed simple and or quick access.
Just for fun, go back and figure out how your room was actually decorated in the 1920's. Experiment with making an arrangement based on that idea. Sometimes, in these older homes, it helps to go back to "original intent" and, quite simply, just work with that!
Wishing you much luck.
November 14, 2010
0

found this helpful
I neglected to mention, you don't want to go through an obstacle course when you go from the kitchen to the hall, so I wouldn't place furniture in the middle of the floor unless you can leave a clear path between kitchen and hall. Also, if you can access the deck by opening only the left-hand french door (as you are facing the door from inside the house), you can place a chair or other piece of furniture in front of or partially in front of the right-hand door. You can give it a try and see how it looks.
November 14, 2010
0

found this helpful
I'd set the couch back about 12 from and facing the patio doors, leaving good walk around room on each side and behind. I'd use two armless chairs positioned on an angle facing the couch, one on either side, again leaving walk around room.
I'd add a rug that runs from under the couch to the far side of the chairs to anchor the room.
Thanks all! I am brainstorming with all of these ideas. I'm going to attach a photo with current furniture tonight for those who were curious on what I am working with. I am not opposed to losing some of it and/or getting some smaller pieces.
dimensions in photo are hard to read...here they are
Couch- 8'w X 3'4''d
Chair- 4'8''w X 3'4''d
Ottoman- 3'3''w X 2'1''d
Console- 4'5''w X 2d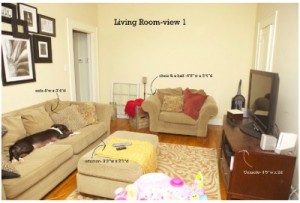 High top is 3' (feet) round
I am up for replacing some pieces or losing some all together.
Also, the right side of the french doors is the side that opens.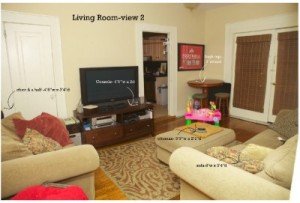 November 18, 2010
0

found this helpful
First and foremost, I love a dog sleeping on the couch. Our two big fur guys are sound asleep on either side of our Living Room sectional as I type.
Second, thanks for the pictures, and third, sorry it took me so long to get back to this post. I'm a new user/contributor to this site and as much as I love it, haven't yet figured out an easy way to revisit older posts. Sorry for taking a while to get back to your original post.
First question, do you consider a den an "office" or a "TV/family room?" (I tend to think of the term "den" as an office/library but know well others think of it as a TV or game room.) I ask because I noticed the big screen TV. What exactly do you want to use this room for?
Your couch and love seat look really comfy, but very large for an office/library. Honestly, if you want to use the room for TV/TV games, and viewing. The furniture arrangement looks fine and fun to me. (What time does the movie start this weekend, hee, hee!) :-)
Second and third questions? What do you and your family love and why not go with just that?
When we first bought and began restoring our 1880's era home, I remember a well meaning, older, neighbor saying we should use a certain room as our "parlor". She was very nice and kind, but assumed we wanted to redo the house as it was when she knew the former neighbor. Well, we weren't/aren't "parlor people" so it became an office/library.
Again, my best suggestion is most simply, don't block doors and windows in the name of the decorating gurus! Good Luck and I'd love to see more pictures after you make your final decisions! :-)