I have been thifty all my adult life. I had my first child at 19 years of age, with 2 more that followed 5 years apart.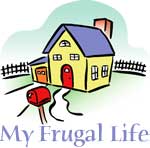 I found myself using more and more store coupons, bought the childrens school clothing at a particular thrift store and at a discount store named Bradley's in NJ that has since closed down. We have stopped using fuel oil and use either our oven or small oil heaters to heat our home, moving the heaters from room to room if necessary.
I found this Thrifty site by accident one day while surfing and I am so glad I did. It offers more than thrifty tips, it is a life-saver. Recently I had trouble with my septic tank and immediately looked up on your site what to do for the problem. It was a relief finding the answer and has saved me $2000.00 to $5000.00 dollars with the results that I found to help me.
This site is not only helpful but makes you think about more ways to save money, time and energy in a busy life. I know I'm supposed to write about my thriftiness but I just want to say thank you thrifty tips for all you do. Your site is fantastic and I'm not kidding.
Dee from Jacksonville, North Carolina
Do you have a frugal story to share with the ThriftyFun community? Submit your essay here: http://www.thriftyfun.com/post_myfrugallife.ldml