Ever hear this from a couple of energetic grandkids, at eight in the morning, "What can we do now, Grandma?" My five grandchildren are all at the age where they want to be busy all the time. And they want me right in the middle of it.
So when I watch the kids for the day, I go prepared. Who wants to look at children's daytime television, ALL day? That wouldn't be good for kids, so why encourage couch potato-ism? After a couple episodes of Blue trying to find his clue (always successfully may I add--kinda kills the suspense factor for me) or Boots the Monkey thwarting the apple-heisting efforts of Swiper the fox; I'm thinking, isn't it nap time yet?
What's a grandma to do? Put them to bed, of course. Just kidding. No, even better. Pull out the "Let's Make Something Together" box. Any old shoe box will do, but I've graduated to the larger box that my husband's boots came in. Has a nice top that's attached. It won't be long, I'll be needing a new one. It gets a lot of use and never fails to keep us crafting along happily for hours.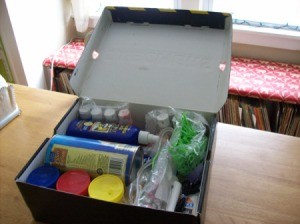 Making things with your grandkids is a great way to not only keep them occupied, but it's also a wonderful way to open up conversation in a relaxed atmosphere. I've had some of the sweetest talks while stringing macaroni on a piece of yarn (a secret gift for mom, shhh), or found out that "there's a kid at school that's kinda mean" and was able to work through that a bit while drawing a picture of monsters and super heroes.
Now you're probably wondering what goes into a "Let's Make Something Together" box. Go ahead, admit it, you're dying to know. Well, a lot of it is stuff you have around the house already. Make sure to tell your grands this. Frugal has no age limits.
The rest is nothing much. Just think back to the things you liked. Crayons, paints, toilet paper tubes (might as well admit it, you used two of them for binoculars, or one for a trumpet, didn't you? but did you put a couple together to make an airplane, hmmm?)
I like to show the kids that with a little imagination--the best plaything God ever gave us--we can create all kinds of entertaining and fanciful things. Useful things. Beautiful things.
I show them the materials are all around us by storing the yarn around a piece of an old cereal box instead of some expensive bit of plastic from the craft store. Or that trash can become treasure in the right hands. And why shouldn't it be their hands?
Here's a list of items I like:
lots of paper--construction, lined, waxed, cardstock (flattened cereal box)
paints and paintbrushes
scissors
yarn
beads
macaroni
Yarn needles
stapler
hole punch
tape
glue
twine
sunblock, for when they say, "now let's go outside."
And earbuds, for me, for listening to some relaxing tunes while they nap, finally.
By ~gloria from western NY