January 3, 2008
0

found this helpful
Best Answer
Hey Rachel,
When I bought my home the kitchen was kind of an olive green (see picture; table on right side of photo) I didn't feel like painting it and put our pub table in in the kitchen anyway (which is similar to a cherry finish) I'm surprised at how it works together. I get a lot of comments on it. You wouldn't have to do this tone of green, but similar tones of red and green seem to work together. Good luck!
Kathy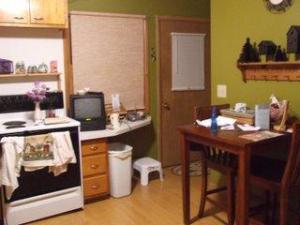 January 3, 2008
0

found this helpful
Best Answer
Rachael,
I would suggest a sage green; similar to what Kathy has on her walls only more neutral and less yellow.
I have a bs in Art and the reason that the red/green combo works so well is that red and green are complimentary colors. I would choose a more neutral green due to my personal preferences, as I like the look to be more grounded and pop a little less.
Other colors that may work well maybe a pale warm yellow to play up the warm tones in the wood.
A beige with cool undertones would be nice too if you plan to accessorise a lot. A neutral shade will make your accessories and wall decor pop.
If you want your furniture to be the main attraction I would suggest a clean color; if you want a more harmonious room a more neutral shade. Just nothing dark; this would make for very little contrast resulting in a bland room; which could posssibly look smaller as well.
Another note cherry finish is beautiful especially if it is highgloss even though it is higher maintence it would be tempting to buy paint in an eggshell finish. So you would also have the contrast of matte walls against glossy furniture.
January 3, 2008
0

found this helpful
Deep shades of pink look good with cherry.
By guest (Guest Post)
January 7, 2008
0

found this helpful
I"d paint the bedroom with cherry furniture a light green. Cherry furniture has a reddish tone. Green is opposite red on the color wheel. It will make the furniture "pop."
If you dont want the furniture to stand out and be highlighted like that, I'd paint the walls blue. A warm color like pink, orange, or yellow will make the furniture blend into the walls.
Best of luck
January 7, 2008
0

found this helpful
We moved into a house with "teal" colored bedroom carpet, and couldn't afford new carpet right away. We painted the white bedroom walls a "robin's egg" type of blue, which was a paler version of the teal, and with cherry furniture and all white bedding and accessories, I like it so much I no longer want new carpet.
By guest (Guest Post)
January 21, 2008
0

found this helpful
i am an interior designer. if you have cherry colored furniture and you don't know what to do with it then you could cover it of the best color for an elegant look you should go with a bronze copper honey gold color. if you want anymore info or advice my e-mail is haven_ AT @yahoo.com
By guest (Guest Post)
August 22, 2008
0

found this helpful
I have cherry furniture all the way through our home, and I love the way the peaches, and pale coopers look with it. The peach gives it a warm glow, and the pale cooper in the living room looks so romantic.