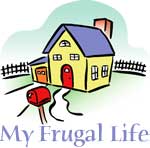 My husband enjoys going on mission trips with our home church, but the cost is expensive for the trip. In order to defray the costs of the trip, I make homemade sourdough bread on a weekly basis and sell it at church for $5.00 a loaf; it is a delicious bread that is brushed with honey butter.
I wrap each loaf in a "Always Fresh" bread bag that is of durable quality, saves money and eliminates waste; it locks in freshness in the bread and these bags are reusable. I put the bagged bread in large lunch bags with a homemade tag (with cute clip art) which states the purpose, "Iceland Team Mission 2011, my husband's name, and "From the oven of Mama Doe!"
I have people at my church that look forward to a loaf of bread each week. My 2 1/2 year old granddaughter loves to help me make the bread dough; we have a lot of fun preparing it, placing it in the rising buckets, then cleaning up. And she is a little missionary helping her grandfather raise the $1300.00+ spending money for his missions trip to Iceland this year!
By JOSE from Collierville, TN