October 11, 2010
0

found this helpful
From what you described, she was probably kept in a kennel with no human contact or new experiences so everything is frightening. Keep doing what you're doing and loving her. She may always be a nervous dog, but as long as you don't push her, she'll feel safe with you eventually.
My dog has a nervous personality and had severe separation anxiety when we first got him. We found that a DAP collar really helped (www.healthypets.com/dapcollar.html). It's a collar that gives off the safe and secure pheromones that a nursing mother dog gives off. They also make a wall outlet plug-in if she spends most of her time in one room. It isn't cheap, but we found it to be well worth it, and I think it would help in your case, too.
The trainer at PetSmart gave us a free consult and had a lot of great suggestions. You may want to try that, and some training classes may help boost your baby's confidence. Of course, you should always check with your vet as well. Mine was great about calling me every week for the first couple weeks to check in on Mason's progress.
October 11, 2010
0

found this helpful
cs_jag is right. Your dog may always be nervous due to four years of abuse and neglect, and also over breeding. It's obvious she was kept in a cage, never being brought out except to breed and then never on the ground. She's fortunate that you adopted her and saved her from living out her life like that.
But yes, keep doing what you're doing, and just be patient with her. Eventually she'll feel safe with you, although it may take several years. Remember, it took four years to get her to this point, it'll take much longer to get her past it. But slowly she'll come around.
If she always cowers when you go to pet her, just be patient with her. I've got a 6 yr old dachshund who cowers too, and he's never been hit once in his life! It's just his nature. Yours has a valid reason for her fear. But with lots of love and patience from you, she'll come around slowly but surely.
One thing's for sure, you'll have a bond with her that nothing will ever break.
October 11, 2010
0

found this helpful
Do not destroy her immune system anymore with vaccines. They would be deadly. Build her immune system with everything you can find like raw diet, antioxidents, no poisons, natural flea control (borax in the house),lots of love, clean air, exercise is super important, lots of touching, a few toys, buddies are great.
Like the others have said, keep up the good work. it may take a while but the rewards for you and her are many. She is a great little girl and you are super for loving her like you do.
October 11, 2010
0

found this helpful
We adopted a mixed mutt that had suffered abuse as well. She would cower and pee every time we came home and called her to come to us. She acted like she was scared and if she'd done something wrong and was in trouble. She wouldn't sleep unless we were all asleep. She had to be facing us, wouldn't let us hug her or anything like that. Every time I cleaned house she would run, scared to death of the broom or mop, etc. She would never get in our laps or let us love on her except to pet her if she was facing us. If she did get in trouble for anything she'd act out worse, almost like she was trying to get in more trouble. She was always submissive and would give her belly to us to rub, but she had her eyes on us like she was still fearful.
We've had her about 7 years, and it took about 3 years or longer for her to become more confident and secure. At some point it changed, and now I can pull her in for a hug. She sleeps whenever she wants, even if we're up. She follows me around everywhere and loves attention. Now when I sweep I have to push her with the broom to get her to move, then she'll finally get up and slowly slink to the next room or just enough to get out of the way. She has absolutely done a turn around. It definitely took some time, but she doesn't act afraid all the time now. She is still very needy but extremely sweet and lovable.
So, don't worry. Keep up the love and attention, and with time and consistency she'll come around.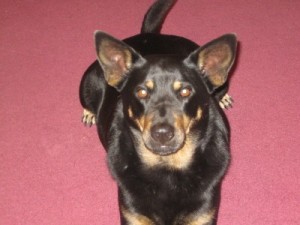 October 12, 2010
0

found this helpful
Your dog has had a difficult start in life. I'm sure she has trust issues with humans. I am assuming that when you feed her, you put her food in a bowl and let her go to it and munch out.
If you have the time, when you dole out her food in the bowl, instead of putting it down for her, sit on the floor or on a foot stool with it and wait for her to come to you; give her a kibble or two at a time. If you think she might nip you while going for the food, drop the kibble a piece at a time on the floor by you. As she eats one, wait for her to look up at you then drop another. This gives her an opportunity to build trust in you one on one. Talk to her while you're doing it. Tell her what a good girl she is as she eats her kibble.
Gradually, see if she'll take a kibble gently out of your hand. Every so often see if she will accept a pet on her shoulders or on her back from you.
I've done this many times when I've taken in young and senior dachshunds to foster, some that came from bad homes or puppy mills. It can take hours or days or weeks. Be patient. With perseverance, she should come around. Eventually, when she sees you fill her bowl, they should come to you wagging in expectation of the good food coming.
Once you have that behavior going, as an off time when you wouldn't feed, put a couple of kibble in a bowl or cup and rattle it and call her name. Your dog should come running. Reward her with a few kibble. Then go about your chores. Take a break, and do the exercise again.
It's all about training her that good things happen when she comes to you (right now, food). Eventually, a good pet session or brushing.
Good Luck.
October 21, 2010
0

found this helpful
Thanks so much for all the responses. It helps a lot just knowing that I could be doing everything right and that after only a year she still might not be acting like a completely normal dog. It sounds obvious, saying that, after being abused and/or neglected for four years, but I get so caught up in worrying if I'm doing things right for her to feel secure. I've started hand feeding her some, which does seem to help, and I've started giving her privileges the other dogs don't get. Maybe I'm spoiling her! All well. She deserves it.
December 7, 2010
0

found this helpful
What a wonderful person you are this poor animal certainly "fell on her paws" when you rescued her. Unfortunately, she is a typical example of the direct result of unscrupulous breeders whose only interest is financial gain. Persevere and only time will help to erase her terrible memories. God bless.
December 14, 2010
0

found this helpful
Here's what finally worked for us.
I tried feeding her by hand, allowing her to sleep with me, even getting down on the floor on my back to pet her whenever she would grovel, all of which helped to a small extent, but never seemed to stick. Finally, I was trying to get her to play with one of the dog toys. I figured that if she could just learn to play, she might break out of her shell. She always seemed to want to take the toy, and would put her mouth on it, but as soon as you'd give it to her, she'd drop it, as if she were afraid it was yours. I even got down on the floor, on my back or on my stomach, and tried to waggle toys and offer them to her, and she thought it was fun, but she wouldn't take it.
Here's what I did. I sewed a little football out of felt. Then I trimmed all the hair off of her belly and stuffed the football with her fur so it would smell like her, plus a few bunny mattes for added flavor. Then, I got down on my stomach and offered it to her. Worked like a charm.
I make sure this one toy is in her space (where she sleeps) and no other dog is allowed to get its smell on it, so that she knows she is allowed to own something. Within the day, she was playing with the other dog toys and fetching balls (including bringing them back and dropping them in my hand). Within two days, she was playing with the other dogs, which she has always been afraid to do. By day three, she stopped groveling and started acting genuinely happy to see me and the other dogs. She's bouncy and playful. It's possible that someone has taught her to play fetch in the past, but the turn-around in her personality with us has been amazing.
August 3, 2015
0

found this helpful
Dogs in puppy mills are never properly socialized, just bred when the first heat arrives. It takes time. These dogs are usually physically abused in the sense of being hit but do suffer mental abuse by being caged and seldom getting out for play time.