Laundry Baskets for the Family
My kids are old enough take care of their own laundry. To make my job easier, I went out and bought dollar store laundry baskets and some colored electrical tape. Each of our kids has their own colors (green, blue, red, pink/yellow). I cut 2 inch pieces of tape and wrapped the edges of each laundry basket with the electrical tape that is their own color. When I do the laundry, all I do is put their clothes in their own baskets and they are responsible for taking them in their room, folding them, and putting them away. When they get done, they are to bring the baskets back out and put them back in the laundry room for the next load to come out. No more digging in piles or baskets of clothes, just to find their shirt or their shorts.
By runningonempty1971 from Columbus, OH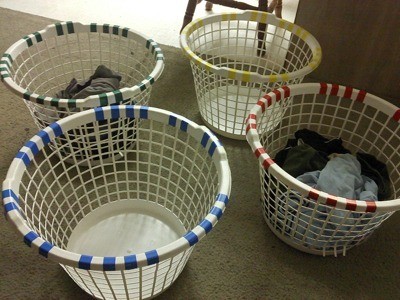 Add your voice! Click below to comment. ThriftyFun is powered by your wisdom!
October 23, 2010
0

found this helpful
Good tip. But I think that you already have the kids doing the hard part, so teach them to run the machines as well. I had each kid keep his laundry basket in his room, and when it was full, they did their wash. Laundry is not a very big chore for a kid to do, if all they do is their own. If you don't teach them how to do it when their are kids, how will they know? But, if one person (Mom) is doing laundry for a whole family, it becomes an onerous chore. My kids have never complained about doing their own laundry (about lawn mowing, yes, or vacuuming, but not laundry!)
October 24, 2010
0

found this helpful
I am a stay at home mom and feel doing the family's laundry is my job. I expect my kids to make their beds and keep their rooms picked up, but most everything else I consider my job and let them be kids. Childhood is such a short time as it is, they will have plenty of time to do laundry and housework!
October 24, 2010
0

found this helpful
Sorry, Debbie, I don't agree with your philosophy. When kids are old enough to take responsibility for their own clothes, it helps everyone involved. Moms, especially stay-at-home moms, have plenty of work and responsibility. Teaching a 10-year-old on up how to correctly use the washing machine and dryer gives the kid a skill he'll be glad to know when he goes off to college or moves out on his own. And even kindergarteners can (or should be able to learn) to get their own clothes into their own hamper or basket, match socks and fold simple items. RunningOnEmpty, I like the color-coding idea. Even pre-readers should know their colors, so this works for the entire family. Thumbs up!
Add your voice! Click below to comment. ThriftyFun is powered by your wisdom!
Related Content
In This Guide
Categories
Guides
More
Categories