May 13, 2010
0

found this helpful
Best Answer
You should use a light shade of the brown/beige on the walls. The bathroom should be done in semi-gloss and the bedroom can be done in satin. And yes, do both rooms the same color if they join.
In the Benjamin Moore color pallet, you should think about Cedar or something close to it providing that it is in the same family of the brown on the floor.
Check out this site...bit.ly/15BZZ4
Click on white in the drop down menu and then keep clicking on shades near what you are want.
In a room, one should chose two main colors and then chose a third color to use as an accent. Maybe orange in a bold shade. You could use orange pillows with the shade of brown in a deeper richer color on the bed.
Find other accessories that have these colors. Remember that the orange if you chose, does not have to match to a tea but rather different shades of that color. Color should be used all around the round to bring it together.
One thing to always remember is that the paint should compliment the color of the wood furniture in the room. Wood comes in many shades leaning from a yellow or red undertone. Just made sure that the paint looks good against it.
I am including a photo to give you an idea of how brown and green look. Also, consider painting your trim semi-gloss white to brighten the area.
Here is a link that you might enjoy reading.
www.decoratingsecrets.net/color.html
The photo is just a thought.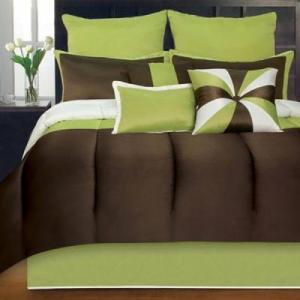 January 28, 2010
0

found this helpful
Brown and green should work, I have a catalog that has a comforter set in the brown and green combination. Pick up some paint swatches in different shades of green and see which one goes the best with the brown tiles. You might have to go to a slightly different shade of green in the bathroom, but that wouldn't matter. As far as that goes I go with the belief that a person should do whatever they prefer. I have also heard that whatever color covers the largest area in a room is considered to be the neutral color. Therefore the brown tile in your bathroom would be a neutral color and any color should go with a neutral.
I don't necessarily agree with that thought but it might work.
You could also use beige in the bathroom and it wouldn't be that noticable as beige would be another shade of brown. I just went into my bedroom and dug out an old decorating color wheel that I have, from the 60s, and on that there is four different shades of each color. It also shows the preferred colors to go with each color. I placed the arrow on "toast" and it came up that colors that range from ocean to lettuce. Of course now those colors all have different names and maybe even different shades, but it should give you some idea of what can be done. I don't think mauve would work real well with brown.
January 28, 2010
0

found this helpful
Thanks for the reply.The largest color to be the neutral color makes the most sense and I think that's how I am going to do it. Looks like the color wheel is in to the greens and blues. I will look for some towels with those colors and go from there. Thanks for the input.
January 31, 2010
0

found this helpful
That's a big no on the mauve! Stay with earth tones, and if possible add some plants and/or dried reeds, dried flowers, rocks, glass etc.
A new modern light fixture will brighten things up too and always helps! Have fun!
February 1, 2010
0

found this helpful
Maybe it is the shade of green in the bathroom, perhaps it is too light.Maybe a shade darker would look better with the brown tile.