When my family lived in Coos Bay, in the late 70's, my husband lost his job. Having come from country roots, I dug in and decided we were going to be fine.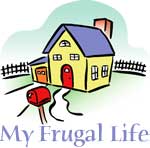 I made sugar free jelly using non-sweetened, non-pulp frozen juice, like apple, cranberry, etc. You heat it, undiluted, in a pot. Put in one package of Slim Set, pour into jars and fill with wax. You can't tell the difference.
Another trick we used, was purchasing enough flour to almost fill a 55 gallon plastic trash container, lined with a black trash bad you can still tie up the top of. How did we keep it from developing weevils? You put a 1 lb. block of dry ice on top, seal the bag, and leave the lid on for 24 hours. That's it!
You can also grow potatoes in clean, boiled sawdust. You boil it to get out the weevils and bugs, then get another 55 gallon plastic trash can. Sprinkle about 4 inches of dried and clean sawdust in the bottom, and put some spud cuttings on top, covering just to the top of the cuttings. When you see 2 to 3 inches of green, gently cover it again, and repeat. When the can if full, there should be a whole can full of spuds. Mine didn't work, since I didn't remember to boil the sawdust, so the bugs got it. However, I got the way to do it from Mother Earth News, so it should work.
I can't say enough about the library, giving us hours of free entertainment. I got lots of puzzles, clothes, and craft supplies at the local thrift shops. I joined the local Gleaners and a food co-op. and coupon exchange. I taught crocheting for food or small amounts of money. My husband fixed peoples cars or machines for trades, and I made all our Christmas gifts.
I have always been thrifty, feeling like I am "cheating" the big stores with their high priced items. I once bought 15 pairs of jeans for 15.00 which is what my friend paid for just one pair (remember, this was the 70's)! I would love to write a book someday!
Poor but Proud from Salem OR
Do you have a frugal story to share with the ThriftyFun community? Submit your essay here: http://www.thriftyfun.com/post_myfrugallife.ldml