You will need:
6 mm bicone Swarovski crystals in birthstone colors
Beadalon or Accuflex 49 strand .7 mm wire
heart and arrow toggle
Big Sister, Middle Sister, Little Sister silver charms
6 mm silver beads
6 mm gold beads
bali style spacers
2 crimp beads
Instructions:
These instructions will make a bracelet that measures 7 inches.
I leave my beading wire on the spool as it seems easier for me to not have to worry about having enough or the beads falling off, etc.
Put on heart end of toggle.
Follow this with the sister charm
Follow this with the bali type spacer bead.
Follow this with a silver ball, then a gold ball, then a silver ball, and another spacer.
Next the first birthstone bead and a spacer.
Repeat steps 5 & 6 with the second birthstone.
Repeat steps 5 & 6 with the third birthstone.
Repeat steps 5, 6, 7, & 8.
Put on crimp bead, then arrow portion of toggle; crimp this end of the bracelet.
Go to other end of bracelet, measure out a little extra and snip off the roll.
Remove heart toggle, replace with crimp bead, then add heart toggle. Crimp off that end of the bracelet and you are done!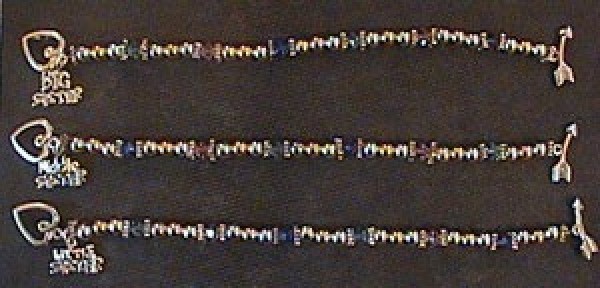 When I make my sisters bracelets, I try to place the beads in the big, middle, little order; however, in the case where big and middle have the same birth month (for example), I will separate them with the little.
These bracelets cost very little to make, are extremely easy to make, and can be sold for a good profit. There is a website that charges about $150 for this exact bracelet, plus shipping and handling!
Have a Blessed day!
By GrammySheila from Titusville, FL