Personalize this easy bracelet how-to. Use your imagination and these instructions to fit your preference, making a style all your own that will be based on your choice of beads. Perhaps use classy glass beads, casual plastics, earthy clay/wooden beads, colorful polymer, etc.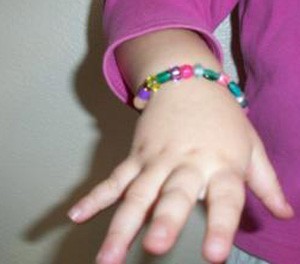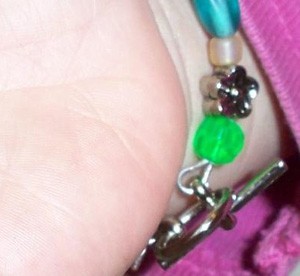 For all ages to wear, maybe even as a collar for especially calm pets, too. Can be a fun party craft.

Approximate Time: 10 minutes (or less)

Supplies:
20-gauge wire
toggle or another type of clasp
beads (make sure the holes are big enough to fit the wire)
pliers (to twist the ends secure)
wire-cutter
Instructions:
After gathering materials, use the wire cutters to cut the wire measuring a desired length for your bracelet from the wire including about 2 inches to ensure there will be enough wire to attach clasp pieces.




At one end of the wire, string one part of the toggle (or other type of) clasp about a half-inch from the same end.


Using the pliers, fold the end of the wire to make a small tear-shaped loop with a few millimeters parallel to the wire on the other side of the clasp part. Clamp the end to the wire with pliers and twist together tightly a few times to secure the clasp.


If you like, decide on a pattern for your beads. (A random design is fun, too.) Make sure the holes of the beads on the ends or on all of the bracelet are big enough to cover and protect the twisted wire's ends.


String beads on the wire to make a bracelet. Make sure the beads are snug next to each other, making sure that the first end is covered and to prepare the other end to be covered, too.




Add the remaining part of the clasp and cut excess wire (if any), leaving as little wire as necessary to twist closed. Repeat steps 2 and 3. If applicable, cut even more excess wire off if you used less than expected. Slide beads over the twisted end. Both wire ends should be twisted tight enough (as in close enough to the rest of the wire) that beads can slide around a little (such as 1-3 millimeters) and still cover the pointy wire ends.
Present finished bead work as a gift or wear this handmade "secret-treasure" because the secret is how easy it was to make it.
Pictured is my beautiful 2-year-old daughter with her Beady Bracelet on that she was so happy to receive. When she gets a little older, she can do the toggle clasp on her bracelet herself, developing fine motor skills and a sense of accomplishment. That is, if hers now still fits then. If it doesn't fit, it's so inexpensive I can make her another.
By Erin R. from Seffner, FL