November 6, 2009
0

found this helpful
Best Answer
Hello, Please take your fur baby back to your Vet and have them do a complete blood panel on him. There might be something else going on with him. Good luck, Sherri & Tucker
November 3, 2009
0

found this helpful
Was he wormed? Does he still have fleas?
I had a neighbor who got emu oil shampoo for her poor old dog who had dry skin which she said looked slightly inflamed under a magnifying glass. I thought the dog was on it's last legs. It seemed very down and out.It had been to the vet, and was "all right", except it wasn't. Anyway, she used that shampoo to soothe the dog and also got some emu oil to put on it's bald patches (it was a mess).
I came back a few months later to visit, and I thought she had a new puppy.It was the same dog, beautiful fluffy coat, happy and peppy.
The punch line is she used the emu oil on her bald husband[late 70's] and he grew new fuzz all over his head. This is a true and fairly recent story. I swear.
So maybe some emu products for soothing and a little chicken liver for b vitamins and a daily walk of 2-4 blocks [fresh air].
November 3, 2009
0

found this helpful
I should have said. He sleeps more than we are used to. In the past view day's he seams to have a dry cough as well. He is not playing like he used to. The vet said that he is healthy,but I know he is not the same. During the night he was acting up coughing I gave him some Pepto mismal, I think it helped.
I am not sure if I spelled that right but it is a minty flavor pink stuff. Someone told us that a long time ago but we forgot.It is good for many things. It helped a lot in humid weather as well. Anyway there are many remedy's out there. If anyone has something that we did not mention so far,please come aboard. I would like to get him to play more.Thanks for now.
November 5, 2009
0

found this helpful
Has anyone have a remedy for kennel cough. We can not afford to keep running to the vet. He has had all his shots 3 weeks ago. After this date we took him to a kennel for a weekend,and now we have a problem. He picked up something from one of them. By the way he did have his shots last year as well.
I took him to the vet,she used a rubber mat for the dog to stand on, I do not know if this was sprayed with disinfectant. Also the kennel did someone have a dog in there that did not have there shots? Anyway, can someone, or anyone give us a tip of some sort? Hopefully save us a vet bill.Thanks in advance for your support. Agie
November 6, 2009
0

found this helpful
While I was reading this I just remember dogs do sleep alot. Mine even snores too. If I am the only one home she will behave her self however if daddy or my daughter comes home she wants extra attention however she does listen to daddy. Also she does stratch near her tail alot. I think it might be poison because I had it too Doc said contact dermatitse. I will also try the emu oil. She got into thristles (where we walk; nice and beautiful just has thristles alot).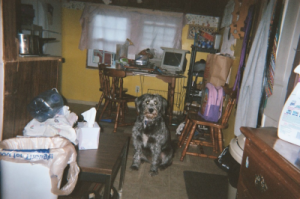 November 7, 2009
0

found this helpful
Feed him special fresh, not canned food, only when he is awake and when you want him to stay awake while his food is metabolized by his tiny body. If he is not throwing up or having loose movements, he may have a systemic yeast infection, or did indeed pick up something from another dog.
However, if he's still eating, it's a good sign. Make certain he has plenty of clean water as well, and is not too cold. The floor of any room is the clodest area. Also shredded pine shavings in bedding can make an animal very ill. Is he
urinating normally, and does it smell particularly strong?
Acidophylus for pets/children is available in refrigerated section of Whole Foods. It is not a medicine but replaces anything good that might have been harmed within his bowels and mucous membranes. Also, give him no dry cereal or dry foods until he is well. I'd feed him only organic: fish, chicken, as in baby food meats for a time, mixing in a raw slightly beaten egg, some finely chopped broccoli or frozen mixed veggies, with a small amount of reg. white bread crumbs, and sprinkle 1/2 capsule of Acidophylus and mix well. It tastes like milk, and pets don't seem to notice it.
Also always sprinkle food with garlic powder to help make his pest resistance stronger. Use no sprays, chemicals, or bleaches near him or in the same room he is in or might come into. He is much smaller than a human so what might not affect you may be killing him. Be very cautious, alert to every thing you are doing. He may need more petting during any sickness, and may feel you abandoned/ betrayed him to the vet who may have hurt him a bit during an exam? He should begin to respond with TLC and better food.
'No more canned of any brand', is my pet motto, my having lost my two precious young best dogs to what is inside canned dog food: Chopped up diseased animals, according to the officials! I rely heavily on tuna in water, adding my own "small animal vitamins" from the pet store which are not expensive at all. Once he is well, you can then add a very small percentage of dry food. Because he is still young, he may still be teething and need a tiny rubbery toy
to chew on that fits his tiny mouth and makes no noise.
He may miss you if you work, so you could leave the TV on low for him while you are gone on a children's program so he can hear the chatter and laughter of children all dogs love. He may benefit from having a stuffed dog as a "friend"
as well, and should you have another friend with a small dog you could make a play-date for them to romp together? All creatures benefit from companions of their own kind, size whenever possible. If he is weak, crawling near the floor when he walks, that is usually some sort of abusive behavior. Stay alert to all visitors and others who play or hold him who may be sadistically harming him without your knowledge. You are all he has, remember. Wash his bedding
frequently but dry in the sun, if possible.
Also, the added fresher more natural vitamins should help if he is depressed. (Dry foods can make their skin dry and itchy, as well as over-sensitive to petting/ touching. Keep your voice calming and quiet. Is he house-broken by now? If not are you gentle with your scolding or loud and angry? Do you shampoo him, take him to the groomers? All of these things need to be considered which I think you are trying to do. God bless and help you and your dog. : )
God bless and help you and your pet. : )
November 9, 2009
0

found this helpful
I don't want to be an alarmist but, I looked this information up a few months back as it was happening to my dog.
www.ehow.com/facts_5505632_side-effects-advantage...
I chose to put a collar on the dog called preventic from the vet. Within 24 hours the dog was beyond lethargic, he was difficult to rouse and his eyes were red he was miserable. So I looked up adverse reactions to flea and tick meds. I was not happy to find I was killing my dog. I ripped that thing off him so fast and brought him outside for fresh air. It took weeks for him to be right again. There have been stories on 20/20 on this subject.
Wash that stuff off your dog right away, bring it to the attention of the vet. I hope the little guy will be okay.
July 19, 2013
0

found this helpful
My 10 year old lhasa-malt used to have the same thing. Our vet said it is just dry skin. it is nothing to worry about. Just crack an egg over his/her food. An about the eating, thats nothing to worry about either. Just isn't hungry. We have an automatic food dispenser for my dog.