Babe is about 7 1/2 years old. He had a wild mother who decided my husband and I were OK and actually would let us pet her. It was during a bad drought in our area, and she was starving. Water was scarce, so we fed and watered about 8 sows and 3 small boars. Then Babe was born. From the day he was born, he thought his place was with us. When the sows moved on, he stayed. We brought him home and had him tested by the state along with 2 other shoats; one was blind and the other one just friendly.
They eat soaked whole corn (1 cup 2 times a day) and a bat of hay a day. They have their own pens, because we don't want pigs all the time. The blind sow likes to be in a pen by herself. They make very good pets and actually love attention.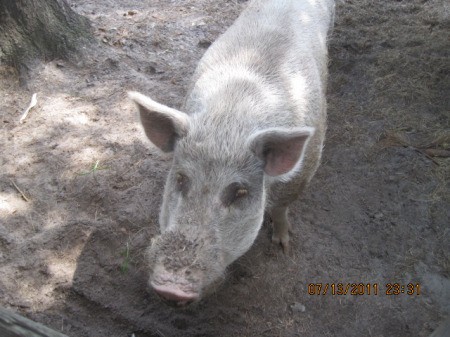 Babe's tusks make him formidable looking, but he just wants attention and doesn't even realize he could hurt you with sling of his head. You cannot tell that he is 7 and 1/2 years old. He won't hurt anything that comes into his pen, not even a kitten. Gentle giant and very laid back. Babe plays with the water hose and likes bath time in his private wallow where we keep his pool for cooling. He loves having his belly scratched.
My husband had cancer this last fall. We thought because nobody would come take care of them, we would have to do away with them, but God was gracious to us all. I was able to feed and care for them, and God took care of my husband. Now he is healed and feeding our babies himself.
We keep hearing so much about sustainable homesteading and raising your own. Well we do, but we keep the parents as pets and use the babies as our food source. What we don't need, we sell to pay for the feed.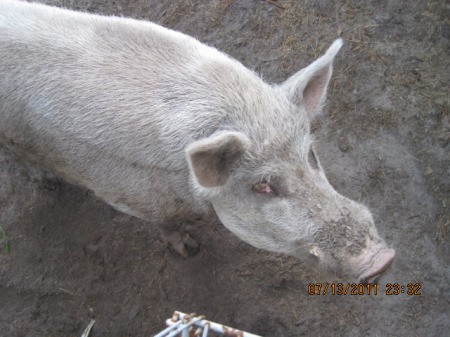 Oh by the way, Babe is a wild cross with a Landrace. Both parents were wild born and raised. A feral cross is a very tidy hog and a gentle pet, easier to handle than domestic breeds and much easier to care for. I have a gift with animals, and the wild hogs after a few days will trust me and come to me. I know this is different, but our home until 16 years ago was on 3 thousand acres of woods.
Animals are great therapy and people could learn so much from them. What you read about feral hogs is what people who want to kill or get rid of them want you to know and is not true. Our feral crosses are tagged by the state. The man at the time stated that he had never seen a wild boar get his tusks cleaned until then. We know one day we will lose our 3 darlings, but for now they are a pleasure to have.
When Babe and the girls are in the same pen, you don't even go near him. A water hose and a 10 foot stick is how you handle him. We choose when that is and how long the girls stay. Once he cools down, he is OK again. That is the wild in him and understanding that is what keeps us safe with him.
By gbk from South GA