Question:
Can a split dogwood tree trunk be mended from tornado wind damage. It has a 2 inch trunk and is 6 feet tall. The trunk is split half way through. Can it be saved? Can it be bound in any way?
Hardiness Zone: 8a
Dianne G from Augusta, GA
Answer:
Dianne,
With all of the terrible storms this spring and summer, this question has been coming up a lot. In my opinion (and I'm not a trained arborist) when a tree experiences severe damage like a trunk that is split halfway through, it has been severely weakened and the sap line compromised. Because this opens the door for future trouble, trees suffering this type of damage should be removed 99% of the time.
However, you need to ask yourself whether the tree would still look attractive and be of value if you went ahead and tried to make the repairs. The tree's age (younger trees do tend to rebound better), its location, sentimental value, and growth rate (dogwood's have a medium growth rate) all need to be considered. When you take into account all of these additional factors, does it seem more desirable to replace the tree as soon as possible, or to try to repair it and hope for the best?
Trees with split trunks may be salvaged if the split is not too extensive. Repairing this type of damage usually involves using braces and/or cables and is best left to trained professionals. My advice is to call a professional arborist or tree service in your area and request on on-site assessment of your situation. It's the only way you'll ever know for sure, and many offer free estimates on repair or removal costs.
If you decide to go ahead and try to save your tree, here is some information on repairing split trunks.
Good luck!
Ellen
About The Author: Ellen Brown is an environmental writer and photographer and the owner of Sustainable Media, an environmental media company that specializes in helping businesses and organizations promote eco-friendly products and services. Contact her on the web at http://www.sustainable-media.com
Add your voice! Click below to answer. ThriftyFun is powered by your wisdom!
Add your voice! Click below to answer. ThriftyFun is powered by your wisdom!
Can this tree be saved? Please see the picture.
Thanks.
Hardiness Zone: 9b

Pi Sheng Chang from San Jose, CA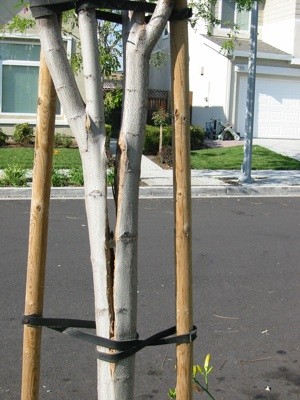 Answers:
Can This Tree Be Saved?
Is there a way for you to tie several bands around the trunk to hold both sides of it tightly together. The trunk just might heal, like a cut finger. It's not a guarantee, but it's worth a try. (11/15/2007)

By Marjorie
Can This Tree Be Saved?
I once saved a tree that was in just this condition. I got a couple of strips of wood to use as splints and used (don't laugh) masking tape to hold it all together. My husband looked at what I'd done and just shook his head. He said "Honey, that's never going to work." But it did. That was about 10 years ago and the tree is still going strong. (11/15/2007)

By June in Hayward, CA
Can This Tree Be Saved?
It looks like the problem may have developed because of the way the tree is bound to the stakes.
It looks old enough to not have the ties or just one or two below the branches, if you're located in a windy area. Trees over a year old, shouldn't be tethered.
This what our tree guy tells us.
(11/15/2007)

Can This Tree Be Saved?
Here's the thing- I agree that it can be "saved". The only thing that I would worry about is the resulting strength of the tree joint. There's always a possibility that it will start to rot inside the injury and cause the tree to split again, possibly when it's old enough to drop a limb onto a car. Is this your tree? It looks like it's part of a city's right of way. If it is, I would ask that the city cut it down and plant a new one. It just seems like it's going to be a whole lot more trouble than it's worth. (11/15/2007)

By Beth
Can This Split Tree Be Saved?
My husband said to put a few big bolts, I think he said lag bolts through it. Anything is worth a try. I agree to remove the supports (11/17/2007)
By Bonnie
Can This Split Tree Be Saved?
Ask at a nursery for a spray treatment to prevent rot so the split can heal better. (11/17/2007)

Can This Split Tree Be Saved?
I would not spray it as this might stop the natural process of it knitting back together - I would just bing it together - you have nothing to lose. I will have a search and see if I can find any info.
Kindest Regards - BORASIC LINT (11/21/2007)

By L O'Brien
Can This Split Tree Be Saved?
http://www.treesaregood.com/treecare/treatment_construction.aspx
This might be of help. (11/21/2007)

By L O'Brien
Can This Split Tree Be Saved?
Just suggestions:
At some level above the split, wrap a ratchet type belt clamp around the tree and commence tightening to partially close the split. Inject construction adhesive into the split to seal it from rot. (It should be totally filled with adhesive.) Drill perhaps three evenly spaced holes through the tree with the top hole at the top of the split. Insert all thread of appropriate length and diameter through the holes so that large washers and nuts can be placed on both ends.
Tighten the assembly, commencing at the bottom but assisting with the ratchet clamp. The split should seal snuggly and be held together with the all thread bolts. Remove any excess adhesive that seeps from the split. Eventually the tree should heal over the split and in time (years) become solid. The bolt ends too will eventually be overgrown with new wood. (04/16/2008)
By art