August 13, 2007
0

found this helpful
Best Answer
You should never put anything all the way around a tree, you will girdle it, you will cut off the flow of its juices. one thing you could possibly do is get a real long lag bolts drill from one side of the tree to the other and bolted it back together.
I do suggest that to call out an arborist, because this could be sign of a disease or bug problem and it's going to die if that isn't resolved, Good luck
By Bronna (Guest Post)
August 13, 2007
0

found this helpful
Best Answer
Popular trees are not very sturdy trees and tend to not live to many years from our experience. I had a tree that the deer had shined their antlers on and had done some damage. I used the following recipe and that was 4 years ago and my tree is doing fine.
1/2 cup of interior latex paint.
1/2 cup of antiseptic mouthwash such as Listerine
1 teaspon of "Pest Control" I use the spray we spray in and around our house for bugs.
Mix together and paint the wound to keep bugs and worms from doing more damage. Hope this works for you.
September 21, 2011
0

found this helpful
Best Answer
Please be careful if it will damage something then cut the l/2 off that would fall on house and you could try to save the other half but I wouldn't take the chance because it will fall and lag bolts won't hold it or boards. It is a brittle tree. But on the other hand your agriculture or farm agent can tell you maybe something better but do it before a big wind please.
August 13, 2007
0

found this helpful
Can you put a metal "band" around the tree just a bit above where it starts splitting?
We have red bud trees in our back yard. The twins and their friends were climbing in them, causing the tree to split. What my husband did was to take a couple of pieces of board, but them up against the branches and then he tied a metal wire around the whole thing. The board keeps the wire from cutting into the tree. So we have the wire going around the branches. In the middle, we used a stick between the two outside wires and we twisted the stick to tighten the wire.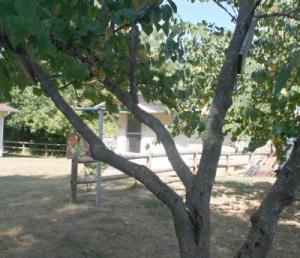 August 13, 2007
0

found this helpful
We have used the lag bolt on two locust trees that were damaged from snow, we put in about 4. My brothers tree split the next day and we did the same to this. All three trees are doing fine. Good luck.
July 11, 2016
0

found this helpful
did you put anything in the crack where it split and was bolted back together?