Wooden hanger has a crocheted cover and clothespins attached to use for drying your hand washables or small items.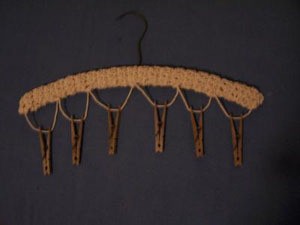 Approximate Time: 2 hours
Supplies:
yarn or household twine
crochet hook K or smaller if using yarn
6 clothespins
drill
scissors
wooden hanger
Instructions:
Crochet a cover for a wood hanger by measuring how wide it is and chain as many as needed to make the cover 2 times as wide as the hanger. I used twisted white cotton twine. My hanger was 1 1/4 inches wide so I made mine 2 1/2 inches wide.
I chained 7, single crocheted in the second chain from the hook, single crocheted in 6 chains, chain 1 and turn. 6 single crochets, chain 1 and turn. 6 sc, chain 1 and turn. Back and forth until it is as long as the hanger and twice as wide.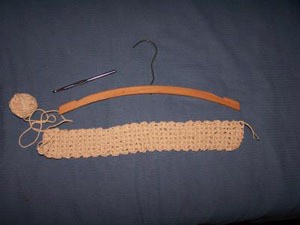 Find the center of the piece you just made and stick the hook of the hanger in a hole in the middle. Fold the piece over and hand sew the ends and bottom so the hanger is covered with the crocheted piece you made. Stretching it as needed. Tie a knot at the end and tuck it into the ends.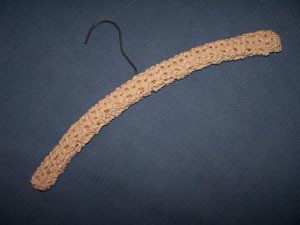 Drill holes using a battery operated drill into the ends of the clothespins being careful not to split the wood.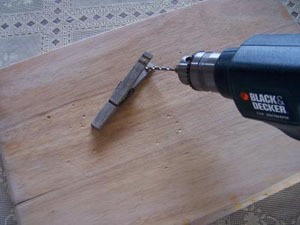 Mark evenly on the bottom of the cover 7 places: one in the center and one on each end and then 2 in between.This is where you will be attaching the string that holds the clothespins.
If you are using yarn you can chain a long string to use. Or I was using twisted twine so I just cut a long piece off. Make it at least 32 inches long. That's extra just in case.
Attach to one end and tie. String it through the hole in the clothespin and let it hang down about 1 1/2 inches then go up and attach by tying a knot at the next mark. Attach another clothespin and attach by tying a knot at the next mark until you have 6 clothespins on and they are hanging down evenly. Tie a knot at the end of the hanger. Cut off extra string and tuck in the end.You can use a crochet hook to get the string through the crocheted cover if it is tightly crocheted.
I use mine to hang dry plastic bags I wash to reuse, small items such as bibs, nylons, bras, panties, mittens, etc. I hang it above my washer on a rod and use it a lot.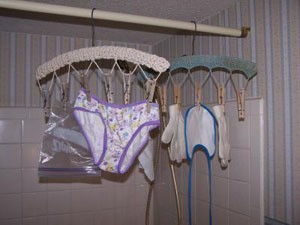 By Little Suzy from Millbury, OH
Comments
Read More

Comments