A Dozen Ways To Cut Your Trash Bill
We have become a disposable society. We throw things away instead of getting them repaired or reusing them as our grandparents did. Make it a game to see how little you throw away. So here are a few ideas on how to cut your trash bill.
Buy any thing you can in glass jars. These can be recycled into Christmas gift jars or to hold something else. Also some trash companies will recycle them. Brown bottles can be used to hold homemade salad dressing and other homemade vinegars. Corks can be bought online at brewing supply companies.
Start using cloth napkins and cloth placemats and dish towels instead of paper towels.
Invest in cloth grocery bags and break the plastic bag habit. Recycle all plastic bags they can be used for packaging materials for storing things or mailing. Leave some at your local dog park for poop pickup. At least you will have used it twice. If you are a crafter, use it for stuffing.
Save your plastic containers for storing other food. Bag your own fruits and vegetables instead of buying pre packaged food. Get a water filter and make your own bottled water.
Buy the filter save your bottles for a month and then refill them.
Use china, stoneware or melamine plates instead of plastic or paper. Use real silverware instead of plastic.
Donate your old magazines and periodicals to nursing homes. If they are not to old most nursing homes will take them for their residents to read. You can also donate yarn and basic crafts supplies they will love you for it.
Avoid disposable contact lenses, lighters, cameras and razors. Buy refill-ables and real contact lenses, go digital with your cameras.
Clean and crush your tin cans and recycle them. Many cities now have county recycling programs that will take them and recycle them for you.
Donate old sheets and towels to your local animal shelter or rescue, and if you have a pet pass think about donated your pets belongings to the shelter also.
Recycle that old computer. There are many programs across the nation that recycle all kinds of Electronic computer, try your local Best Buy or Office Max many will take your computer to recycle along with batteries of all kinds.
Reuse those old calendars. If you loved the pictures frame them. Schools can also use them (Especially the ones with landscapes) or they can be decoupaged to furniture or in other crafts.
Use the backs of envelopes for lists. Shred your old documents and use them to package items with. That includes old checks. Make scratch pads from papers that are printed on only one side.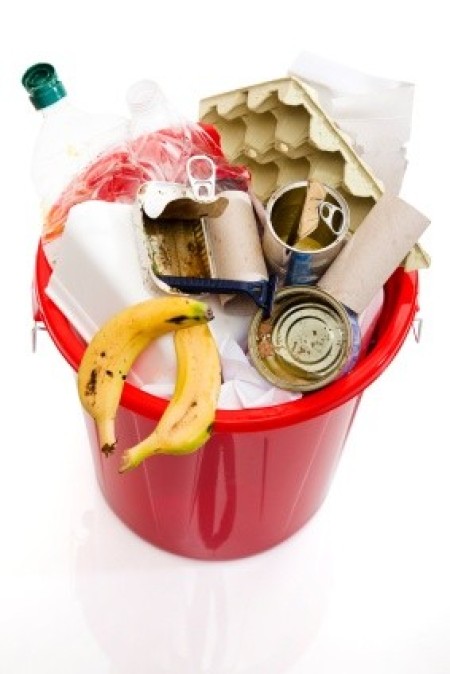 About The Author: Debra Frick is a mother of 5 and a grandmother to 8 grandsons and one granddaughter. She is a published author and poetress. Recycling and saving money are her passions. She also loves crocheting and cooking. She is also a pet rescue volunteer and has many pets of her own.
Add your voice! Click below to comment. ThriftyFun is powered by your wisdom!
August 17, 2010
1

found this helpful
Cardboard boxes can be cut up and made into "sewing cards" for young kids to begin learning to sew. They're cheap, easy and if they get torn up just make another.
August 17, 2010
1

found this helpful
Put every single shred of vegatable waste in a compost box including coffee grounds and egg cartons. Use the plastic bags from the store for trash instead of buying trash bags. Freeze water in milk jugs and toss it in your dogs water bowl if it big enough. I use a dish pan from the dollar store for water.
August 18, 2010
0

found this helpful
What in the world is a "sewing card"?
August 25, 2010
1

found this helpful
Sewing cards are the best toy for pre ks. Glue pictures onto a shirt card or the side of a cereal box. I always cut around the image, i.e dogs or ducks, then take a little hand hole punch and make holes around it.
The child can the take yarn which you have secured to a closed safety pin and "sew" through the holes. A needle point needle which isn't very sharp can also be used with the yarn.
October 6, 2014
0

found this helpful
As an art educator we use a lot of recyclables. Just looking at the photo with the trash; the bananna peels can be used in a compost, the tin cans- luminaries - freeze water in the cans and use a nail to pierce the design into the side of the can, egg cartons multiple uses. Call up your schools and talk to the art edcuators there!
Add your voice! Click below to comment. ThriftyFun is powered by your wisdom!