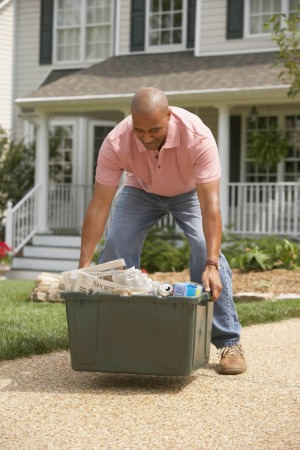 If possible, do not use garbage pick up. Check with your employer to see if you can put your garbage in their dumpster. You may even ask your church or a local business that does not fill up their dumpster to use theirs.
I recycle all our paper and newspapers at the local school recycling bin, I compost most all our food products, I return plastic garbage bags to the store, and what's left my husband takes to work and puts in their dumpster. If we are doing heavy cleaning and have a lot to throw away we give usable items to goodwill and take the rest to the local land fill.
CAUTION: Please ask before using a dumpster. Some businesses do use the full capacity, some have signs posted and it is illegal to use a dumpster without permission.
By J McClure
Comments
Read More

Comments
Aside from eating less (therefore less garbage from food packages), recycling a few cans I rinse out and an occasional clean empty jar saved for some other use, what are ways to recycle, reuse, and reinvent some of the packaging items so they don't end up in the garbage?
I moved to the country so I can have a "burn pit" or "burn barrel". I have been buying much less food stuffs. Everyone else out here subscribes to the $25 a month garbage pick-up service, which so far I have been able to get by without. I make at least one trip to town a week (if not more) and take my little garbage with me.
I also keep my bag of trash as small as I can so I can toss it in the car wash bin or sometimes when I stop for gas I leave a small trash sack in the gas station barrel. My friend thinks thats just terrible saying "they have to pay for that service so you shouldn't do that !" but when I am a customer there it is you or I they pay for it on behalf of so I use it! It has never been a HUGE kitchen bag full, only small shopping sacks so I feel I am not doing wrong.
I am always on the lookout for more creative ways to use my trash items to give them a second chance before giving up on them. I never have minded reusing things around the house or giving them away, not everyone recycles. So I am wondering what you do in similar circumstances.
Campers also sometimes have this same dilemma. If they pay a camping fee of some sort as I have done in the past or a maintenance fee for a camping club as I also have done, then the trash pick-up is paid for them as a part of their stay. What do you think?
melody_yesterday from Otterville, MO
Answers
By caseye (Guest Post)
January 21, 2009
0

found this helpful
Best Answer
Recycle everything possible! Plastic liter bottles (actually, plastic of every kind is now being taken in my area of Texas), aluminum cans, metal cans, glass, newspapers, junk mail, etc. Recycling costs way less than using raw materials to make new things. Think of creative ways to "repurpose" things before they end up in the recycle bin: use greeting cards for new cards, tags, placemats, doorknob hangers, boxes, etc. Use cereal boxes for purses. Fill plastic liter bottles with things you can mail to friends. A wealth of ideas can make repurposing fun and creative!
By Linda (Guest Post)
January 21, 2009
0

found this helpful
Best Answer
I don't know how you handle Christmas, but I would suggest your gifts be hand made or something you have baked like cookies. You could wrap them in the leftover cereal type boxes. If you don't give to family, how about giving to a homeless shelter or senior home, etc. I reuse paper towels that I put in freezer bags that I have washed out. The towel absorbs the water in the bag. It will dry out and can be put in another bag to absorb moisture again.
I reuse the black containers from Lean Cuisine meals for other meals I have made ahead. I put the container in a quart size freezer bag, perfect fit, and freeze. Can fix meals for this purpose or store leftovers for future use. Do not use the bags with the tab you slide across, use the ones you have to close yourself.
My homeworker and I made hamburger helper on our weekly cooking day, and got three containers to freeze. I see nothing wrong using the container at a gas station, people clean out their cars and put stuff in them. If you used a neighbors container, it would be different. I for one appreciate all the efforts you do to recycle, wish more people were that thoughtful.
January 21, 2009
0

found this helpful
Best Answer
I mean these comments in a nice way. If everyone dumped their small bags of trash at retail locations - or anywhere except the dump. Think how expensive it would be for the retailers? What right do any of us have to place our trash in gas stations, malls, whatever? I have a friend who also does this & justifies it in her own mind, but it offends me.
A gas station does not owe you trash dumping services. Also, as an allergy sufferer, I do not like trash pit or barrel burning. It is an air pollutant for everyone, & particularly bad for allergy, & breathing problem sufferers as well as others. What you have is a miniature "dump" with burning wastes. When I lived in the South, many people had trash burning. It made my breathing miserable as well as polluted air for everyone. Just my thoughts.
January 21, 2009
0

found this helpful
Best Answer
I understand about taking trash elsewhere, especially if one's circumstances prevent being able to afford a trash service. I've been there. I would recycle as much as possible - tin cans (lids can be removed from both ends and can smashed), plastic bottles, glass jars, paper. Garbage can be buried in the back yard/garden. For the small amount that you take into the service station - I really wouldn't worry about it. As far as the burn pile - fire reduces everything to its original elemental state, and living in the country - there are very few people who are going to be affected by whatever pollutants that might be produced - they'll probably dissipate by the time it reaches town.
Answer

this Question