January 8, 2009
0

found this helpful
Best Answer
Hi there; here in Nova Scotia, yard art is a very big seller; from cartoon characters, to xmas themes, to animals (wildlife), it is very popular. I do a great many different crafts, the one downfall about the plywood is that you will need to cut it out with a jig-saw. This means strong wrists, lots of room to work, and good aim; this takes practice.
Large wreaths (just a circle really with the form of a simple bow, painted green and drill holes, put a small set of large old fashioned lights in the color of the bow,all around, are so popular, many homes have several in the towns, and fetch 40.00 each; so the answer is yes, and good luck to you!
Your best times are xmas, and springtime! Happy New Year!

January 12, 2009
0

found this helpful
Best Answer
Makeup a few that you are willing to keep and advertise them on Craig's list and even put For sale signs on them in your front yard, and even the swap meet, that would be 1 way to find out if there is a market for them in your area. If they don't sell at least it is something you like.
As for the price that would be determined by the cost of the materials you never really get paid for your labor.
What I have done is charged 3 times what the materials cost for instance, if I spent $2 on materials I will charge $6 for item, the only problem is a 4 by 8 sheet of plywood you will have to break that down to individual items the same with the paint so it's a lot of guests by golly.


Harlean
Bronze Post Medal for All Time! 148 Posts
January 12, 2009
0

found this helpful
Best Answer
I have been making plywood yard art for a little over 5 years. There are not a lot of people in my area who do this craft. I have been doing craft shows for over 30 years, and the yard art also does well at craft shows, but it only does well if the show is outside where you can actually display it in the grass. I also put up a website in August and did very well during the Christmas buying season. My website is hosted for free. The only thing it costs me is for my domain name, and for my shopping cart setup.
I have also sold a few pieces through Craig's list. I put them in the Little Rock Arkansas list, but I sold a stork baby announcement to a man in Georgia from that list. If you would like to take a look at my website, which is still a work in progress since I have many more items to add. here is the link
http://www.YardArtByHarleanFromArkansas...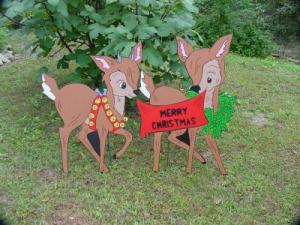 January 10, 2009
0

found this helpful
Hi 1027 Debbie,
Thanks for your reply as you have made my day and I am excited about starting my plywood yard art. I loved the wreath idea and since I don't have a work shop I have to wait for better and warmer weather. I lived in British Columbia nearly seven years but that was a very long time ago.
I lived as far north as Dawson Creek BC. but mostly lived in the Cranbrook and Kimberly area though. Wow, those were the days! It was great getting your post, I hope we may have correspondence again. Best wishes! Anatole

January 12, 2009
0

found this helpful
Images of life-size cows have sold well around here. No idea about price. Hmm, how about a deer?

January 13, 2009
0

found this helpful
In our area, it's our school's logo. They use about 1/2 a sheet of plywood. It's the Big letter P (painted in dark yellow) and a big black panther.
The Cats paw and claws are coming over the 'P'. They are impressive signs. The woman that does them also does other local schools.
By Karen (Guest Post)
January 13, 2009
0

found this helpful
I think the pics posted are just beautiful. I love these! Good luck. Are you going to try to sell online?

January 16, 2009
0

found this helpful
To Karen,
I am not sure if I'll be doing it online as of yet but I have a desire to create yard art. I like Harlean's suggestion of trying to set up somewhere on grass so you can see the work in a natural setting. She says it sells better that way. Have a good one! Anatole :)

January 19, 2009
0

found this helpful
Your blue cat is gorgeous. I am sure you
will do well with your craft.

January 19, 2009
0

found this helpful
Hi Meoowmom,
For some reason this site won't let me send you a message so I'll have to post it here. Even when I am logged in it says that I am not? Anyway the blue cat is not my work, I just loved the pic because it was inspiring and hope to do quality work like it.
I will post some pics as soon as I can. Take care! Anatole :)