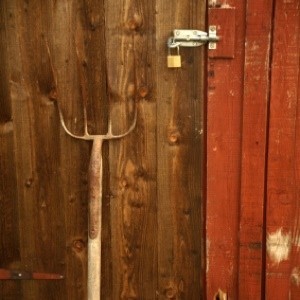 Residential garden theft is on the rise. In the United States alone, millions of dollars in commercial and residential insurance claims are filed each year citing losses due to theft and vandalism. It isn't necessary to surround your property with razor wire, but for all the time, money, and hard work you invest your yard and garden, taking a few simple precautions against theft is well worth the effort.
Items most often stolen or vandalized:
outdoor furniture
showy plants; rare and exotic plants
large, expensive containers
garden art and statuary
lawnmowers and power tools
BBQ grills
Tips for Preventing Garden Theft
Take A Visual Inventory: Use a video recorder or digital camera to record anything of value including expensive plants, garden decor, and power tools. (You should also do this with the contents of your home.) Make two hard copies of the information. Keep one at home and the other in a safe-deposit box, or wherever your keep your important personal/financial papers.
Mark Your Valuables: Discretely mark valuable items with your initials, zip code, or another distinguishing feature, to help you identify and recover your property should it ever be stolen.
Store Items Properly: Don't leave lawnmowers, power tools and other valuable items outside overnight. This is also true of ladders and wheelbarrows, which can easily be made into useful tools by thieves. When not in use, store yard and garden items in your garage or shed and out of sight.
Minimize Attention: If you have a plant or garden sculpture that is particularly valuable or important to you, avoid drawing unnecessary attention to it. For example, avoid illuminating it with outdoor lighting and display it in a location less likely to be noticed by passersby (i.e. the side yard vs. the front yard).
Fence Your Property: A fence six feet high will help deter most thieves (and also keep deer out!). If your yard is already fenced, consider raising the fence's height by topping it with lattice or a prickly bramble like dewberry vine.
Secure Windows, Doors, and Gates: Many garage thefts happen during the day. Thieves simply walk into unlocked buildings, take what they want, and are gone within minutes. Always secure your outbuildings, even if you are only going to be gone for a few minutes working in another part of the yard. Use quality padlocks rated for outdoor use. If you have widows on buildings that offer easy views to the contents stored inside, cover the glass with wood or paint to obscure the view.
Bolt Things Down: Grills, patio furniture, and garden statuary can be bolted down, or secured to immovable objects using wire cables with locks. Large containers can be cemented in place at the base or with wall anchors. Because heavy objects are more difficult to move, adding large stones at the bottom of large containers may offer at least a small degree of protection.
Use Prickly Plantings: Thorny hedges and prickly plantings can be a good compliment to other crime prevention measures. They also provide extra benefits such as producing food (berries) for local wildlife, and providing the garden with colorful foliage. Use them around the perimeter of your yard, around garden statuary, or place them strategically below vulnerable windows. Try Barberry (Berberis), Hawthorne (Crataegus), Firethorn (Pyrachanthus), Holly (Ilex), or Rambling roses (Rosa Rugosa).
Set An Alarm: If you have an existing home security system, consider having the service extended to garages and other outbuildings.
Add Lighting: Most thieves do not like to risk being seen. Make it difficult for them to get close your valuables by installing landscape lighting and motion-sensor security lights to overlook your garden.
Check Your Insurance Coverage: Ask your agent if your homeowner's policy covers losses to your yard and garden. If it doesn't, find out how much it would cost for additional coverage.
Partner With Your Neighbors: A Neighborhood Watch is an organized group of neighbors who help prevent crime by observing and reporting suspicious activities in their community to local law enforcement. For more information on how you can start a Neighborhood Watch visit www.nnwi.org.
Read More

Comments
Does anyone have ideas how to keep outside decor, such as, pots w/plants, ceramic animals, etc., somehow anchored where no one would be able to steal things?
By Nancy Doyle from Belvidere, IL
Answers
April 26, 2013
2

found this helpful
Glue the items down with liquid nails!
May 14, 2018
0

found this helpful
There is only dirt under my pots so there is nothing to use glue nails on. What else can I try?
July 8, 2018
1

found this helpful
glue them to a stepping stone to make them heavier to carry away
July 9, 2018
1

found this helpful
For large planters, put several pieces of bricks or heavy rocks in the bottom of the planter then put the dirt and plant on top. It helps with drainage and makes the planter too heavy to easily move (either by a person or by the wind--which is my problem).
I don't have any decorations so maybe someone else in the Thrifty Fun community has ideas to keep them in place.
Answer

this Question
Does anyone have any ideas how to anchor down stepping stones into the dirt in an arid non wintry area? 12 embossed stepping stones were dug out of the ground in my front yard and stolen!
They were somewhat unique in that they were concrete embossed geckos or lizards and probably 1 1/2 to 2 in thick. I could not believe it.
Answers
December 19, 2018
0

found this helpful
Maybe you can cement them to another piece of heavy rock and granite. If it is very heavy to lift, it may discourage thieves.
December 19, 2018
0

found this helpful
People are horrible. I am very sad to hear you had to go through this.
All of my friends are doing things like installing motion lights and one even installed cameras after just such an incident. It seems extreme, but they felt they have no other recourse. We even have a neighborhood watch, but when most people work, it falls apart.
You could try calling Home Depot or one of the big box stores to see if they have anchors that can be affixed to the stones to keep them from being dug up. Judy is right, the heavier the better, but that isn't always possible unless it is hand or custom made.
Prayers for a good solution and bad people getting a life :(
December 20, 2018
0

found this helpful
It's a sign! Invest in a camera and then add motion lights. They'll see the camera and steer clear of attempting again!
December 22, 2018
0

found this helpful
You do not say how large the stones were but if they were 12x12 and made of concrete, I'm not sure your thieves will stop at anything.
I was going to suggest you cement them to another concrete pad to make it four inches thick but that would require a lot more work.
You might try some security lights (but they may just break out your lights?) and a camera would be nice but probably a big "fake" camera would work.
You might talk to someone at Lowe's or Home Depot and see if they have any suggestions.
Answer

this Question