By Granny Marcia (Guest Post)
September 28, 2007
0

found this helpful
Hi,
I found a couple of things to help.
1 - Here is a newsletter with some instructions on cleaning the air exchanger.
www.geothermaldesign.com/newsletter082004.pdf
I am not sure if that is what you are looking for but the newsletter may be a good source to find info.
2- This is a site for maintenance. It may help:
tristate.apogee.net/.../gdccopr.asp
This site also has an index link at the bottom of the page. Perhaps your friend can click through them to find additional information.
I highly suggest looking on the unit nomenclature plate to find the manufacturer. Once you have the brand you can generally find the web site and be able to email them for the proper info for your exact unit. Be sure to include the model number/serial number if you can write them so that they can help you with the exact info you need.
I've had one of these systems and they are marvelous. I hope you find the info you need soon. At the very least, you have some basic info to get you started.
Kind regards,
Granny Marcia
By CMM Management, LLC (Guest Post)
September 29, 2007
0

found this helpful
I install geo loops in the ground. I have to tell you that it has nothing to do with the loop. I would go back to the person that told you that you need an acid bath cleaning and asked him to explain.
You have an open system and water is constantly flowing through your heat exchanger. As with any boiler, some waters have acidic properties or elements that reacts to some metals. The reaction sometimes causes a build up i internal parts (like cholesterol in the arteries) or corrosion, which could be fatal.
This may be the case in your area.
Your neighbor offered to help, just asked him to check the heat exchanger for proper flow rate or signs of corrosion. (just like build up inside your car battery).
Contact the manufacture, and asked them if they heat exchanger replacement adequate to your needs (you may have to run a water sample through the lab)
Good luck,
Carlos
By George Kontol www.northwestgeothermal.com (Guest Post)
January 31, 2008
0

found this helpful
Hello No Fear there is help My Geothermal Company Specialize in open loop discharge systems Geothermal Clean is a special,unique and scientifically formulated decscaler for safely dissolving stubborn fouling water deposits. friendly Non-Flammable / Biodegradable / Non-Hazardous / Non-Corrosive / Eco-Friendly / Non-Toxic . Geothermal Clean may be accomplished in a mater of a few hours. Simple circulation or even plain soaking will completely remove scale and fouling deposits down to the bare heatexchanger metal with no damage to the heat exchanger.
After cleaning, simpley flush the unit with fresh water to drain and return to service. Geothermal Clean can be shipped directly to you for do-it-yourself youcan put the product in your hand its all about Safety, you can visit our web site at WWW.NorthwestGeothermal.com
Thank-you
George Kontol Jr. DeMotte In. 46310

By George Kontol (Guest Post)
February 3, 2008
0

found this helpful
Here Is A Address Northwest Geothermal Inc. Geothermal open-loop Chemical to clean the heat exchanger safely with out harming the unit and there is a Do-it-yourself Circulating kit you can purchase with the chemical.
www.northwestgeothermal.com/geothermalcleanchemical.html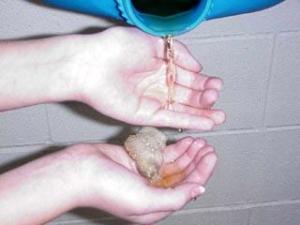 March 3, 2017
1

found this helpful
Geothermal heat pump professionals do an acid wash using Muratic Acid. 2 cautions doing this!!! You do not want to ihale this, it will take your breathe away and can cause upper respitory problems or worse and it is toxic. Muratic Acid basically turns the iron deposits (rust) into salt which can then be flushed out of your system with water after reclaiming the Muratic Acid. This can clean right down to the metal. However remember it is toxic and can be dangerous to use if you do not take precautions. To do this you need a small chemical safe pump to circulate the fluid through your system for at least a couple hours.
Find or manufacture a seald unit with 2 Hose Bib connections. one high(mid way) and one low. (Should be at least 5 gallons).
On your open loop heat pump conections install ( if not already installed ) one shut off valve and one garden hose bib connection on the entering water line and one on the discharge line. The shut off valves prevent your water from going throught the system while purging / cleaning the unit. So, place the valves on the out side of the shut off valve and the hose bibs on the inside of the shutoff valves eleminating the open loop. Basically you are making a short closed loop with a pump and resivour inside of the normal open loop system.
MAINTAIN FRESH AIR for breathing !!!
Fill the reseviour with Muratic Acid ( may be watered down for safety but that also reduces the effectiveness so it may take much longer to clean )
If there is a way to have the resivor tank outside that is safest.
The inlet side of the pump should connect to the reseviour about halfway down ( to keep contanimanets from recycling through the system) while the return line should be neat the bottom of the resivour. to keep contaniments away from the line leading to the pump. connect a hose from the inlet side of the pump to the connection thet is at the highest point (midway) of the resivour.
Connect a hose from the pump discharge to the inlet hose bib , connect another hose to the discharge hose bib connector on the geothermal unit to the lower hose bib connection on the resivour.
Thin this through and make sure you are capeable of doing this without ggetting hurt. If you are unsure, it is well worth the cost of having it done professionally.
It is illegal to just dump the Muratic Acid in the drain or on the ground or any waterway in most if not all states. contact your local refuse on how t osafely nuetralize the used Muratic Acid and wher you can dispose of it. Again if you are unsure you are capeable of doing this safely leave it to your local professionals.
DO NOT use an open resivour with Muratic Acid !!!

April 9, 2021
1

found this helpful
Yes to most. Muriatic acid is hydrochloric acid and HCl, which we have in our tummies to break down food into blood borne energy. Though I wouldn't put it passed governments to regulate anything, it's environmental impact is akin to vomit.

March 3, 2017
1

found this helpful
A small typo mistake above.
place the hose bib connections inside of the shut off valves ( closer to the Heat Pump ) to create the closed loop system.The shut off valves to prevent the open loop system from working. Note shut of the power to the unit and the water supply before doing this and do not use the heat pump while doing the acid wash.
You can also find out how to set up the closed loop clening connections on a site showing heat pump installations . ( look at manufacturers sites for digrams)