Save Food Scraps for Chickens
If you know anyone that has chickens, save ALL your scraps, peelings, and fruit skins and give them to the chicken's owner. This keeps my garbage disposal and septic clean and the chickens have fruits and vegetables year round. Everyone is a winner!
By The Red Head from Bozeman, MT
Add your voice! Click below to comment. ThriftyFun is powered by your wisdom!
March 7, 2011
0

found this helpful
Ah, a kindred spirit! We save all of our grain, fruit & vegetable scraps for our chickens and pet pig; they absolutely love them. It is such a joy to watch them enjoy their treats and to know that the food is not wasted. The only food items that we end up composting are citrus peels and coffee grounds. We grind up egg shells to mix with the chicken feed for added calcium so that our hens can produce strong shells. We cook a small pot of vegetable peels daily to add to our pig's feed. My husband and I tend to eat more fruits and vegetables knowing that our beloved chickens and pig will eagerly eat the parts we don't care for.
You should see them feast on watermelon rind!
We had a neighbor back in Ontario who saved corn cobs and other vegetable scraps/peels for our animals and that was so thoughtful of her. Here in New Brunswick we have two neighbors who bring over garden "waste"--blemished vegetables and tiny potatoes left at the end of the growing season--for our pig. These neighbors are happy to find a good use for the vegetables and we are thrilled to get them.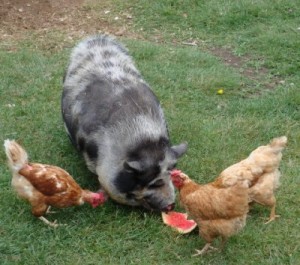 March 8, 2011
0

found this helpful
I got in trouble with my sister when I visited her last summer. She had not had her chickens when I visited the year before, so I did not know to save the melon rinds, scraps, etc. She had me pulling them out of the garbage to give to her chickens.
I wasn't too happy about it, but the hens were! She said it does save her on having to clean out her septic by not using her garbage disposal in the sink. Her 'disposal' lives in the chicken coop now.
December 26, 2013
0

found this helpful
We have chickens and give them our vegetable scraps, but you should NEVER give chickens citrus or potato of any kind because that is toxic to them. They really seem to be disappointed (as disappointed as a chicken could be! ;) if we come into the coop empty-handed!
Add your voice! Click below to comment. ThriftyFun is powered by your wisdom!
Advertisement