September 22, 2008
0

found this helpful
LOOKS LIKE ONE OF MINE, CHI DOX MIX.
DAD IS CHOCOLATE CHIP HE IS ON LEFT. HIS DAUGHTERS ARE CHOCOLATE KISS & CHOCOLATE COOKIE.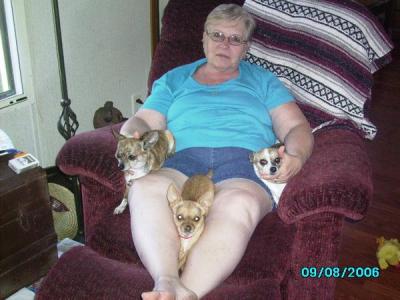 By guest (Guest Post)
September 23, 2008
0

found this helpful
I have a tea cup chihuahua. At 3 1/2 yrs old she still only weighs 5 lbs. My daughter also owns boxers.
The point is that any and every dog no matter what kind or size is trainable. I taught my little one to sit and shake. She also dances and can walk a few inches on her two back legs. The boxers are well trained too with sitting, shaking, laying down, staying etc. My other daughter taught her miniature dachshund to roll over.
All it takes is patience, consistency, and of course rewards.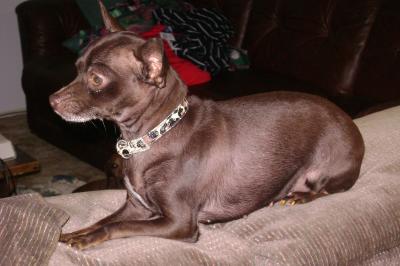 By guest (Guest Post)
September 25, 2008
0

found this helpful
Pet Store = Puppy mill.
You may "love" getting a cute accessory for yourself as an impulse buy but in so doing you ensure that dozens more dogs will suffer unspeakable horrors until they are lucky enough to die and more are unlucky enough to take their place so pet stores stay fully stocked.
Pretending to "not know" doesn't change the truth of the matter. Responsible breeders also require prospective owners to fill out questionairres and go through reference checks and approvals before they will consider selling to anyone just as a shelter would and those dogs start at a min of $1,500 for non-show quality dogs.
How do you think you got a quick, no check, cheap dog if you didn't send your money to fund a puppy mill??? And of course the owner will tell you they don't deal with breeders like that or they only use responsible kennels...it's all in the advertising and packaging.
September 25, 2008
0

found this helpful
WOW..Shelter Worker came on a bit harsh.
No one likes puppy mills but TACT could have
still gotten her point across.
I just wanted to say your pic is priceless!!!!!
The cat seems to be telling Teeka that the
cat is the boss and Teeka is letting cat know
that Teeka is now here to RULE with an iron paw..
that is a winning photo enjoy your new lil one
and cool that cat and Teeka are playing!
September 26, 2008
0

found this helpful
I love the cat in your photo. It looks like our lucky that is sadly missed. We had him for years from a baby. But he is passed on. My inlaws have a dog like yours but beige color.
Isn't it funny how cats and dogs get along. My daughter now has registered french mastiffs. They are the kind of dog on the movie "Turner and Hooch". People put a lot in the word registered, but for a pet who cares.
One day the male and female mastiffs were playing with the cat. The cat has a love connection to the male. HA HA! Any way the dogs would play attack on the cat. The cat would lay and actually play stiff as a board dead.
The next day I was looking for the mastiffs. I knew I let them out and was sure I brought them back in. But suddenly I wasn't so sure. I went in a panic yelling from room to room, Mator (The male) Mattie (Female).
I went to the kids room and other rooms, back to the kids room, finally here comes the big giant Mator from underneath the bed. Then comes the pregnant Mattie from underneath the bed.
What! Look who's coming up the rear. The cat that by the way has five kittens underneath the bed.
Just one big happy family!