January 11, 2011
0

found this helpful
Best Answer
Oil of cloves will often give temporary relief; but you need to see a dentist. If you cannot afford to go, try to find a free or reduced cost clinic; and as a last resort, get to a doctor. If you have a bad tooth, it can become infected, and be dangerous to your health!
January 11, 2011
0

found this helpful
Altho Jilson and MCW are right in that you really need to see a dentist, I spent many years with bad teeth and no insurance or money to pay a dentist. So I had to find ways to ease the pain of toothaches myself. Here's some of my tricks that I have used.
*Oil of cloves is good, but whole cloves are cheaper. One whole clove placed on the bad tooth will taste terrible, but it will numb the tooth. What I did was to empty a tea bag and then wrap the clove up in the paper from the tea bag. I would put one staple in it to hold it closed. Be sure not to fall asleep with it in your mouth tho.
*Placing a tea bag on the tooth is another method. Again, terrible tasting but something in the tea acts as a numbing agent. This is a little safer to fall asleep with.
*One thing I kept on hand always was Orajel--maximum strength.
Again, these are by no means a substitute for a dentist, but if you are in the position I was in they will hold you over till you can afford to go.
Another suggestion, most dentists insist on payment at the time of service, but if you call around you might get luvky and find one that will let you make payments. I did and one time when I was in excrutiating pain, he was the only dentist in town that would help me.
Good luck!
January 11, 2011
0

found this helpful
Just remembered! If your toothache is caused by a broken tooth (or the nerve is exposed for whatever reason) there is a product called DenTemp that works fantastic! It's a clay filler. You take a tiny piece of it and roll it into a little ball and press it into the broken area. Don't eat or drink anything at all for about 2 hours. Then you can eat and drink anything and it'll stay in there for months.
I've heard some people say not to use this because then the dentist has to drill and really work to get it out. Not so! I've even had dentists tell me it was a good thing to use for temporary. (Granted I used it for many years, just replacing it whenever it would come out, which was usually only after 2-3 months.)
But if that's the cause of your pain, you can't beat this. It can be found at any pharmacy, and also at Wal Mart, K Mart, Target in the Oral Care section.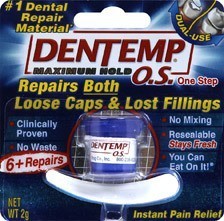 January 11, 2011
0

found this helpful
Buy yourself some "orajel advanced tooth desensitizer", It's a liquid that comes in a packet, in a box, that is made to go directly on to sensitive teeth. It cost around $5 at K-mart, other stores & online. (it's far better than the orajel numbing cream). The tooth desensitizer is like what my dentist put directly on my nerve when he did my crown to make sure my tooth would never hurt again.
If someone in your family is diabetic, you can use a syringe with all the needle broken off (or I used a dosage syringe, made to give a small child medication. available at any drug store) or you can just use an eyedropper. Put the orajel tooth desensitizer" in to the syringe or eye droper. Then take a paper towel & dry off your tooth & the surrounding area, get a mirror & good lighting & squirt the tooth desensitizer" directly into the cavity. If the cavity is on the top teeth, you will have to kind of turn your head upside down (for gravity) & squirt the desensitizer in to the hole. (try to keep it off your gums!)
Try to get it directly in to the cavity, then let it sit there for a minute so. Be aware that this will likely cause you intense pain! But after that 1 second of pain, you will have no pain in that tooth for months! This medication is not meant to be used this way, but let me tell you, in emergencies, it works wonders & keeps the pain away!
Another treatment that really works (& dentists use) is clove oil. It's is fantastic stuff! (that's why dentist offices smell like that, it's the clove oil!) You can find clove oil in Health Food Stores & most drug stores. Use only 1 drop, on a Q-tip or a toothpick or 1 drop sucked in to a tiny little stir-straw, then put directly in to your cavity (stay away from your gums!) Then pat away any excess with a paper towel. You can use the Clove Oil, Then the stuff Cricknc recommends. (See post below.)
It is not healthy to not take care of your teeth. Maybe you are like me & have no money for dental work. Take my word for it, if you do not take care of your teeth, you can get infections in your heart valve & may need the valve replaced! Also, if you take too much Ibuprofen or aspirin for very long (for pain) you can end up with kidney damage &/or holes & bleeding in your stomach lining. & if you take too much Tylenol you can permanently damage you liver! ("too much" is taking more than 2 extra-strength Tylenol a day). So take care of your toothache as soon as you can get in to a dentist!
---> Sadly, there is little to no help for the working-poor when we have toothaches or need dental work!

January 11, 2011
0

found this helpful
Ditto on the oil of cloves (you can ask your pharmacist for it) or Orajel to get temporary relief but you really, really must see a dentist because problems with teeth can cause serious health issues! Call your local Department of Human Services/Resources or your doctors office to ask where your nearest low/no cost dental clinics are and call those dental clinic(s) to ask their rules of how to get help from them!
January 12, 2011
0

found this helpful
My family has used this remedy every time we get a tooth ace, Get a head of cabbage, they are pretty cheap, chop some of it up really small, wrap it in a cloth, and put it on your tooth, it doesn't taste bad! I think it tastes quite good! You leave it in till tastes bad, then take it out and put another one in, it pulls all of the infection, or anything else out and stops the hurt, it will heal the tooth back to normal in just a day or two! Hope this helps!! :)