September 9, 2007
0

found this helpful
How about making paper out of old jeans or some other material? good luck
September 11, 2007
0

found this helpful
Best idea source of all is to go to a nearby Fair and see their 4H department. It's not too late to make a trip to a Fair and get ideas!
September 11, 2007
0

found this helpful
We have been a part of 4H for 5 years. My husband was the arts and crafts fair superintendent. So this advise comes from knowledge and experience. Do what makes your daughters eyes light up. If you have to make her push through it and she hates it, it's going to show in her workmanship. Take her to one of the big craft stores and let her walk around.
Let her touch as much as possible. You don't mention her age, but if she's old enough for 4H, she's old enough to have a sensible opinion.
I think there are times to make a child try something, but if you want her to do this for presentation her heart has to be in it or she could be very discoureged by the whole thing.
4H has a catagory for everything.Your leader can help you figure it out.
Good luck
September 12, 2007
0

found this helpful
One year I helped my granddaughter with a idea for her 4H presentation. Pretty envelopes. We used different sized mailing envelopes (business and regular) and carefully took them apart so that she could use them as patterns. She used them for the pattern and the fold lines. We found wrapping paper with nice patterns but some calendars will also work.
You might want to make a cardboard template (just slightly smaller) of the envelopes before taking them apart. After using the opened envelope as the pattern you lay the template in the center of the pretty paper and just fold the sides up around it. It might be helpful to leave it there while she glues the sides so that the front and back don't accidentlly glue themselves together.
If the pattern is colorful or to bright and you are going to use them for mailing, you might want to use mailing labels or...make your own out of light colored paper and cut around it with decorative scissors.
When it comes time to do the presentation it would be good to practice it at home first. She would also know where she wants to place things on the table during the presentation.
Have fun and good luck
NaLee
September 13, 2007
0

found this helpful
They must have some guidelines for the project, what does her leader say? As a former 4-H homemaking leader and participant, they are always guidelines of some kind. I agree she needs to do something that inspires her. A recycle craft would be good as it shows a concern for the environment, but as for what, there are so many. I've even tried making a small round purse from old cds! Good luck, but most of all, she should have fun.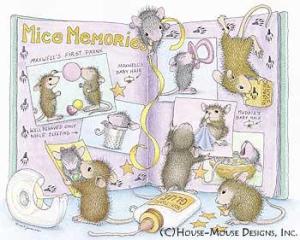 By Rasta (Guest Post)
September 14, 2007
0

found this helpful
My note is a note of encouragement to your daughter. I do hope you enjoy your 4-H experience because I was a member for several years while growing up. I learned so many things and was selected to go to camp, and even had a dress go to the Illinois State Fair.
That was a big deal in my life. I now am 63 and still use some of the recipes I learned and everyday do something I learned sewing, painting, gardening, etc. We lived on a small farm so I was in a rural setting. Good luck and best wishes with your 4-H experience. Head, Heart, Hands, and Health
September 15, 2007
0

found this helpful
How about making beverage coasters out of fabric and putting in some potpourri that that you have crushed with a rolling pin. Add a couple of drops of essential oil. Hot beverages would release the scent. The fabrics could be anything and only limited to your imagination if you want to applique something on them etc...
By Julianne (Guest Post)
September 20, 2007
0

found this helpful
You should look at the "Plastic Bag rug" craft that someone posted on this site (with great instructions and pictures).... Easy peasy and fun for a group, and little to no monetary investment! Include a short lesson on the RIDICULOUS number of plastic bags consumed in this country every day, and you have a lesson and project with real impact.
Editor's Note: Here's the link:
By Darlene Williamson (Guest Post)
October 7, 2007
0

found this helpful
Dear Trisch from Troy, IL,
I like the responses you have already received. They are definitely given with a lot of experience behind them.
I was a 4-H leader for 18 years and have judged presentations. The one thing that concerns me is don't try to do a difficult project because when she is presenting it can get very mixed up and hard to present. Do something that can be simple with different alternatives or possibility to make more difficult.
It isn't easy to show how to do something and continuously explain the process. This will need to be practiced many times in order for her to get proficient with her technique of presenting. She should not only practice at home with family and friends but it is good for her to do it in various other settings, such as her own club, other 4-H clubs, residential care homes, women's groups in your community, it can even be done in her school classroom. Just ask around there are always groups that like to help children thrive.
She must also be prepared to answer some questions in the proper way. Prepare her with a lot of assorted questions and answers so she will be comfortable answering any question that come her way.
My daughter was a shy 9 year old when she first began presenting and it was amazing how she blossomed after she started presenting. She eventually became president of her club, became an All Star and finally a wonderful teacher. It really opened up her world.
I concur that the best project to do is something your daughter is interested and even excited about.
I applaud you for being so supportive of her activities. Good luck this is a great but frustrating journey you are beginning and it is something you will never regret.
Darlene from Turlock, CA
By kim (Guest Post)
November 6, 2007
0

found this helpful
Hi My Daughter is in 4-H this is her 3 year and she has been in crafts for all 3 years. This last year she made a bubble gum machine out of a clay pot and a rose bowl and we got a cheap dollar store bubble gum machine and cut out the front that turnsand glued it to the front of the gum machine.tthe top we used the saucer of the clay pot and wood ball on top of the saucer. paint 5 cents sign on the rose bowl she won first place in her class with it and it went to proshow and there she won second place. Another great Idea is a stepping stone. need quick dry cement and she put them in tin pie plates and then get different color stones shells and bead from the dollar store to decorate then set the dercoration before the cement drys. She got first place at county level and that item went to pro show as wellshow
By kjwkjwkjwu (Guest Post)
April 12, 2008
0

found this helpful
I am going to 4-h this year in May or June I read on the website and here go to this website.http://www.clydeyork4hcenter.org
I hope this is your camp, if not I am very sorry. This is the one in Crossville, TN.