Peep just turned 8 on March 7th. He's a common but uncommon cat, :) beautiful face, short legs. His siblings were all different with even one looking part maine coon.
He was born into the palm of my hands from a stray. I am the only human to hold him, touch him, love him or even get near him. No one has ever gotten within ten feet of him besides me of course.
Peep is an outdoor kitty and considered feral except that he is mine in every way. I feed him and love him and I massage his short little legs that he just loves. Tuxy is a black and white female I have outside also, they have a love/hate relationship but only each other, at least in the cat world besides me.
Peep being born right into my hands has bonded with my soul. He is truly my soul kitty. I have been renting a place for 15 years and now need to move as it is being sold so I am burdened by the pain in my heart what to do with MY kitties.
I just lost my father a couple of months ago so it has been all so much. But in so many ways I have been blessed. OH and the two of them have never even had a simple cold due to the fact that I also feed them raw :)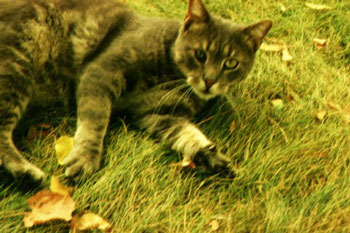 By Tone from Lodi, NJ