June 29, 2009
0

found this helpful
Hi, I was discussing this with my daughter, and I think what we will do to raise funds is to go around to all the yard sales and buy games, jewelry, things that we can then take to the pawn shop and pawn or sell. Hope this helps!

June 30, 2009
0

found this helpful
This may sound obvious, and maybe you've done it, but in FL vets sometimes have money earmarked for people who need assistance. With the economic situation people are having to give up their pets because of lack of money when the get sick. An article in the paper said that sometimes people don't let the vet know they of their financial difficulties and if they did there is sometimes help.

June 30, 2009
0

found this helpful
We have been giving our dog Nu Pro silver for her arthritis and it is working within 2 weeks. She could hardly get up before giving this to her. Hope this helps.

Janet
Silver Feedback Medal for All Time! 399 Feedbacks
June 30, 2009
0

found this helpful
You could try a university with a vet school. Often they have clinics for dogs & do all kinds of things for a lesser cost. I used to take my dog to LSU in Baton Rouge, LA for cataracts & liver problems.

June 30, 2009
0

found this helpful
Hi! We've been through our own problems with Giardia, and you might try looking up Miracle mineral supplement. We bought some for people troubles, but I have used it recently on a goat with a bacterial problem and it worked...and the price is right. Roughly $20.00.
Sometimes joint issues are caused or aggravated by environmental factors. If you are willing to try an alternative cure for a little while, even just while you try to figure out your funds, I would try putting her on distilled water to drink (some places in AZ have contaminated water) and put some dandelion root powder in her food. I have NEVER had a side effect from it and most animals eat it like crazy because it's a natural detoxifier. The other thing to watch out for is the amount of fluoride in your puppy food. We nearly lost our 4 month old Dobie when he was getting a double dose of fluoride and other nasties from our contaminated water plus the cheap dogfood we had him on. We did some detox and changed his dog food to a more expensive natural brand and he was miraculously "un-paralyzed". Best of luck!

June 30, 2009
0

found this helpful
I got a doxie from a shelter and within 5 days the back legs were dragging. He had ruptured a disc in his back. The surgery would cost $2,000. which I did not have. The shelter would take him back and would put him down. He has been on cage rest for a month and has been getting accupuncture and can now pull himself up on his hind legs. The vet says he will have a full recovery. I found internet sites very helpful and supportive.

June 30, 2009
0

found this helpful
Try googling help with veterinary bills. Also the HSUS has a list of helps. If your vet is AHAA certified, he can make an application for funds. There are a lot of options out there, you can even try asking for help on your facebook page. Good for you for not giving up, and good luck.

June 30, 2009
0

found this helpful
Try www.aahahelpingpets.org, www.angels4animals.org,
www.carecredit.com,
www.all-creatures.org,
www.help-a-pet.org/,
www.all-creatures.org,
www.imom.org,
www.thepetfund.com/
Try these, Google for more info. Best of luck!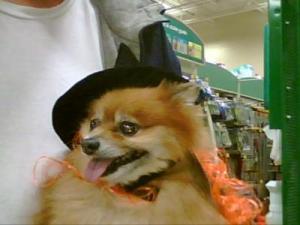 July 1, 2009
0

found this helpful
Please give your doggie some Virgin Coconut Oil. He will enjoy eating it, and it is effective against guardia and much more! It would not surprise me if you saw a change in his other problem....I hope you will try it. You can get it reasonable at www.vitacost.com It is good for doggies and people!

July 1, 2009
0

found this helpful
I had an idea on raising donations for the needed surgery. If you know and trust the folks at your pet food store, ask if you can put a donation jar on the counter near the register. We haven't had to do it, but our local feed supply store (which is family-owned, and is where we buy our dog food) would do something like this and make sure no "grinch" stole from it!
If this is an option, I'd use a plastic mayonnaise jar and tape a pic of your "fur baby" with an explanation to the jar. As bad as the economy is, folks can still be generous!

July 3, 2009
0

found this helpful
This is a long shot, so please try the other excellent suggestions first--but I thought I'd mention it, because from your post you already have an established relationship with your veterinarian.
With the recession, many small businesses are operating on a shoestring, cutting costs wherever they can, and often reducing (or just not hiring) staff they really wish they had. This includes veterinarians, most of whom operate as small businesses.
If you're in a position to do it, you might try asking if your vet, or any others s/he could recommend, need office staff they can't afford. You're at least computer literate enough to be here, and perhaps you could volunteer in a vet's office enough time to offset the cost of your dog's health care. Even if you could volunteer enough to cover the vet's time and energy, and pay the actual cost of supplies used, you might be able to swing it.
This relies on you having time to do this, of course, but it might be an option if all the others fail.
Best wishes to you and your dog!

July 3, 2009
0

found this helpful
I would go to earthclinic.com and see if there are any remedies listed for this ailment. Then I would also have a garage sale for the dog. Put a jar out for donations and have a bowl of cookies you made or bought wrapped in plastic by the jar.
If your birthday or anything is coming up ask for funds for the dog instead of presents. Also buy things cheap from garage sales and sell them through the newspaper or something of that sort. You could ask for contributions of other peoples things to sell also.
Some vets have payment plans and may be able to help that way or other programs. Check the humane society for any discounts or help they can be for you. Hope this works!

July 4, 2009
0

found this helpful
My prayers are with you. Keep us all updated on what you decide to do. Give Ace a hug and a kiss for me!

July 7, 2009
0

found this helpful
Hi Again, I came across this site and thought of you. Here it is.
dogs.thefuntimesguide.com/.../help_with_vet_bills.php
Blessings, Robyn