November 2, 2008
0

found this helpful
They make great bird feeders. Those that knit or crochet, they can hold the yarn. You can check for more recycling ideas here or on a web site for recycling, there's a lot of great ideas.
November 2, 2008
0

found this helpful
Fill them w/water.turn them upside down to water your outside plants. Fill them w/water, bend one of those light sticks and drop it in. It makes a safe luminary for your walkway on Christmas Eve. Cut the bottom off, drop a skein of yarn in and thread it through the top or do the same w/twine/hemp or string. Use them to store rice, dry beans etc.
Keeper, NC
November 2, 2008
0

found this helpful
Thanks so much for the inputs everyone. I have some new ideas for my pop bottles, thanks again!
November 2, 2008
0

found this helpful
Cut off the top to make a nice funnel.
November 3, 2008
0

found this helpful
Can you not return them for deposit? We can here. They are recycled into a variety of things, so not as good as glass which is reused, or aluminum which is made into cans again, but better than putting in the landfill.
By RAE (Guest Post)
November 3, 2008
0

found this helpful
We have a well that is very low. When it starts raining, I catch water in buckets and use a funnel to store it in 2 liter bottles or gallon plastic milk bottles.
If i will keep it long I add a bit of bleach to prevent algae forming. I use it to water things or have on hand in case of a fire, or even pour down the toilet when the power goes out.
By Janet (Guest Post)
November 3, 2008
1

found this helpful
Here is cute snowman I made from a two liter bottle. Add some sand about half way up in the bottle & then make a face using craft paint. The hat is a child's sock slightly stuffed & hot glued on the bottle top & tied with twine. cut teh toe off & shag the end. the arms are one piece of floral wire pushed through premade holes. The mittens are cut from felt & hot glued on the ends of the wire. the scarf is a scrap of winter print fabric. it was really pretty easy to make.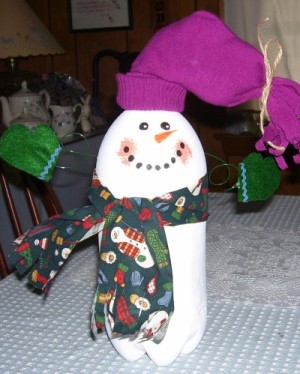 November 5, 2008
0

found this helpful
I have been making Xmas tree ornaments with them. I cut off the top part, then saw off the part that screws with the cap. I then paint them, decorate with decoupage. I find an interesting shaped squeeze bottle top and glue that on then glue on a bead to the hole where the liquid would come out.
I then punch two holes on two sides that add a string or ribbon. I fill these with small gifts or candies or nuts and then give them a way as gifts. My friends sure like them and I love the idea that I have recycled plastics and kept them out of the landfill!
November 9, 2008
0

found this helpful
Here is a link to a pattern that I submitted previously. It is an Easter Basket pattern. You can find it here www.thriftyfun.com/tf62840172.tip.html It is PDF form and easily printed off.
Harlean from Arkansas
By Alexis (Guest Post)
February 20, 2009
0

found this helpful
Hey, love the ideas.
July 7, 2009
0

found this helpful
Make cool terrariums. Peel off the lable. Cut as straight as possible after starting the cut with a knife,finish with scissors.
Add sand,stones (for drainage),small plants,moss or other & possibly a small inexpensive figurine or trinket or stone etc. for interest.
Water thoroughly.(Keep in mind that the water can't easily escape the dome)
place top down over bottom creating a "dome" over the plants.
Here's someone elses version www.stormthecastle.com/.../