Decorating a High School Senior's Lounge?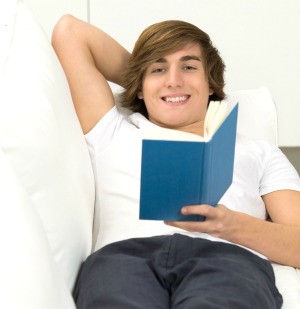 My highschool is considering having a lounge just for seniors. I'm on a committee to decide what we are going to buy for the room, with a budget of $1,000. What specific items do you think we should purchase/not purchase? Do you have any good ideas for saving money, but still having a cool lounge?
Emma
Answers
By Kelly (Guest Post)
November 17, 2004
0

found this helpful
We recently "remodeled" our high school youth group room at our church. The youth group kids picked greys and black and red and blue(like denim color) for the colors. We went to IKEA to get awesome pictures and frames and accessories and a bookshelf and some little tables etc. We had 3 carts full of stuff and spent approx. $400! We painted the floors dark grey and light grey like a checker board. Have stuff for the seniors to do... like board games, cards, magazines. We have a ping pong table that gets used a lot! Check out Pottery Barn teen catalogs for ideas.
By guest (Guest Post)
November 17, 2004
0

found this helpful
I would suggest getting the basics... sofa, loveseat, and a cushioned chair or two, depending on how large the room will be. Don't forget the coffee table and a couple end tables. A small round table that seats 4 would also be a good idea for study groups or whatever. I work in a college and that's pretty much what we have in the lounges. Ikea seems to have some inexpensive choices, but don't rule out stores like Walmart and especially Target for the decorative touches. Good luck!
November 18, 2004
0

found this helpful
The main thing I'd say is get a good, efficient coffeemaker. The second thing I'd suggest is a nice dart board. Also, you might consider putting in some bookshelves and setting up a book-swap program that everyone in the senior class can use. Bring one, take one, no charge. Those who don't have a book to bring, charge them fifty cents or a buck for a book. And a computer would be nice, but that might be pushing it a bit. Maybe you could "appropriate" one the school has that is no longer in use.
November 18, 2004
0

found this helpful
Oh, one other thought: I took woodshop all through junior high and high school, and I'd have jumped all over an idea like this! If your school has a woodshop class you'll probably find members who will build you most of what you need, furnature-wise. That should save a bunch of money. Best of luck!
By sandy schmeling (Guest Post)
November 18, 2004
0

found this helpful
We have a local youth center that I work for. One of the things we did was to ask for donations. We got furniture, foosball table, board games and a microwave. We purchased a used pool table for $600. It gets used every second the center is open. We sell snacks at afordable prices..25 cents for a can of pop...
By Katie (Guest Post)
December 12, 2004
0

found this helpful
I would suggest starting with the basics like chairs and tables and then I would look furthur for cheap accessories that would make it look cooler. Try Pottery Barn Teen catalog or http://www.pbteen.com for ideas.
By Taylor (Guest Post)
February 2, 2005
0

found this helpful
Hey! When you're building a new lounge for teens, it'e essential to use particularily modern, hip, as well as fun decor. Be creative by mix and matching different styles and remember too keep any nesescary resources at hand, such as desks,storage, mini kitchen, bookshelves, tv, stereo etc. If the lounge is for both guys and girls try using colors that will esentuate to everyone's taste. I hope I was of some help!!! Good luck decorating the lounge, I hope the outcome is awesome!!:) I reccomend these stores:
PB Teen
Ikea
Pier 1 Imports
By Deb (Guest Post)
May 9, 2005
0

found this helpful
As important as durable furniture, games, coffee makers, etc. are, I believe to make a teen room really fab is to have great lighting. It makes the whole place come alive. Use multiple levels and types of lighting such as rope lighting, uplights behind furniture with different color bulbs, black lights, cool hanging paper lanterns, and finally good hanging lights/lamps for reading and playing games. Even with many types of lighting styles you still want to be sure the colors coordinate with the color scheme. Good luck!!!!!!!!!!!!!
Answer

this Question
My class is in the process of renovating our senior lounge, but part of the room is taken over by mini lockers. There is no hope of taking them out and it's an eye sore. I was wondering if there was any way of either using them in a creative way or covering them.
My class is not too handy with wood so covering them with a wood box would not work. Also we are trying to stay in the range of light colors, such as pale green, yellow, and blue. There will be about 90 people in there and we need all the space we can get. Thank you!
Julia from Baltimore, MD
Published by ThriftyFun.
© 1997-2020 by Cumuli, Inc. All Rights Reserved.
https://www.thriftyfun.com/tf669356.tip.html