Lucas (I lost him during the hurricane Rita evacuation last year but he's still in my heart.) Lucas was 6 years old when the picture was taken. He was an American Short Hair and Maine Coon.
A coworker obtained Lucas, and her husband didn't want to keep him. She told me if I didn't take him, she would dump him at the pound, so of course I took him in at 2 months old.
Lucas always wanted to be with me, no matter what I was doing. Lucas was my big baby boy, 23 lbs., and a lap kitty. Unfortunately, he didn't survive our evacuation. In the gridlock of Houston, my car died and Lucas succumbed 3 days later, to heat stroke he sustained during the evacuation. This is a picture of Lucas yawning.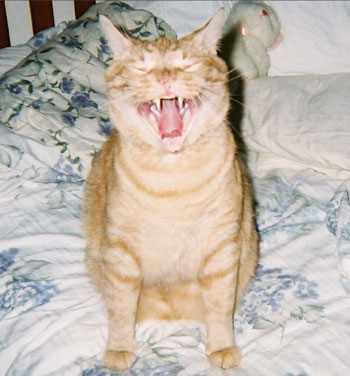 By Lisa Butler from Seabrook, TX