December 13, 2010
0

found this helpful
Best Answer
As stated on one of the archived posts, I have found that by removing the toilet seat and cleaning underneath and around the screws, odors have been eliminated.
December 9, 2010
1

found this helpful
Oh my! I have the same problem with 4 males. It is so gross.
I use Lysol concentrate. It sounds too strong but its safe for pets and kids. I use it in the cat box, a diluted solution to wipe down keyboards, phones light switches toilets door knobs etc. Any where the germs and bacteria can be spread. You can get it Walmart, Walgreens and Amazon.
I clean homes for a living and worked in nursing home as housekeeping!
Its a staple in my house!
I have inserted excerpt from the web site;
www.drugs.com/.../lysol-brand-i-c-quaternary-disinfectant...
(Cut and paste into browser.)
What it kills:
Bacterias:
Salmonella, Staphylococcus Chlamydia, Ecoli mono, Streptococcus, some fungi
Viruses:
Human Coronavirus, HIV-1 (AIDS Virus), Herpes Simplex Type 1, Herpes Simplex Type 2, Respiratory Syncytial Virus (RSV), Rubella (German Measles), Adenovirus Type 4, Vaccinia, Influenza A/Hong Kong, Hepatitis B Virus (HBV), Hepatitis C Virus (HCV)
Animal viruses:
Canine Distemper, Feline Leukemia, Pseudorabies (PRV), Avian polyomavirus, Feline Picornavirus, Rabies
It also takes care of the smell. Make up a solution, soak a rag or rags and put it around the base of the toilet, on the floor with out wringing it out too much let it set over night. It will work! As for the area under the tank between the tank and bowl where the seat connects use the rag method too.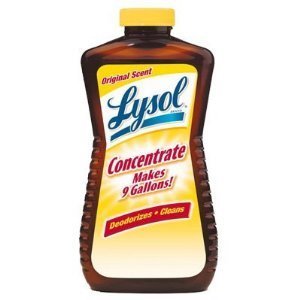 December 14, 2010
0

found this helpful
Perhaps the boys are not being messy on the toilet seat or floors but are spraying in the area ecm1357 mentions? In that case she is completely correct about cleaning around those areas but also teach them to spray strictly in the water because, after all, the spray can be directed. ;-)
My other thought is 'are they flushing after each and every poddy session' because if they aren't you could just be smelling the residue from the water in the toilet bowl? I hate wasting water flushing every single tinkle but if the urine smell is bad then that is what has to be done.
I implore you to not use any manufactured chemicals for cleaning! Not even for a toilet! Simple vinegar will sanitize and clean and take the odor away and your lungs and other internal body organs will thank you! I wish I had not grown up with and continued to use nasty cleaning chemicals because of serious permanent health issues caused by them.
Maybe keep a spray bottle of 50/50 vinegar and water solution handy in the bathroom for in between actual cleanings?