February 10, 2010
0

found this helpful
All the houses that I was in when I was a kid were old houses that had cracks in the wall and everybody used wall paper on the ceilings and walls. There was a special ceiling paper, that was white/ivory colored and it had a small design on it that was just a slightly different color. There were all types of paper for the walls, some of it was really gaudy, and some of it was nice. I don't remember any textured wall paper, but I think there was some, but the people where I grew up considered it too expensive. They used the wall paper because that would cover the cracks, whereas paint wouldn't. The Home and Garden Channel has several programs on at different times that show how to patch these cracks. There wasn't anything like that available when I was a kid. In fact I was 14 when we got our first TV and one channel.
February 13, 2010
0

found this helpful
Most home improvement stores have the heavily textured paper. They even have some that looks like the old fashioned tin ceilings. I used some of that as a backsplash in my kitchen until I could afford tile. You can paint it any color you want. If you have never papered a ceiling before, it is not the easiest thing to do and you definitely have to have two people working at it.
I remember that my mom would be on the step ladder matching up the seams and my dad would stand on the floor holding the paper up with a broom to hold the extra weight. Worked pretty well for them.
When I put up my paper for the backsplash, I painted it a metallic silver and then to cut down a little on the shine, I glazed it with a brown glaze.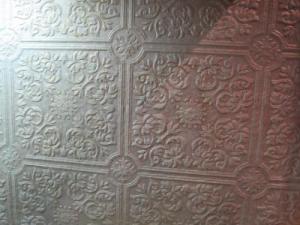 February 13, 2010
0

found this helpful
I owned a small commercial building a few years ago that housed my beauty salon that had those ugly dropped tile ceilings but couldn't afford to remove or replace them so put up the special textured ceiling paper and painted it to match the decor and it looked great and you couldn't even tell that those tiles in the metal tracks is what was actually underneath the paper ;-) If it will work on track tiles it'll definitely work to cover up cracks :-)
Oh, and it held up quite well!
December 3, 2017
0

found this helpful
I have used textured paper on old plaster, on the ceiling and walls, in a summer cottage that is heated very seldom , and yes, the weather and the humidity change daily, I live in Wisconsin, The paper holds up very well. I haven't had any problems at all. I would use it again