Recycled Envelopes and Note Cards
Here's a great way to recycle paper by making your own envelopes and note cards.
Materials
postal regulation envelope (for a template)
paste, or glue sticks
scissors or exacto knife
ruler
pencil
paint brush (if paste is used)
small amount of plain paper (you can uses pieces of envelopes, lined paper or whatever)
various sheets of interesting paper ranging in size from 6.5x9-10 inches or 8.5x11 inches - these sizes are easier to handle and more readily available
Hint: I often use old maps and pages from old magazines.
Instructions
We will be creating a tri-fold style closed envelope, which is much simpler than the triangular style closure seen on many postal envelopes but you can use any envelope as your pattern.
Making The Envelope
Place your template envelope in the center of the backside of the paper you want to use, or so that the image you want on the front of your envelope is in the center-ish of where your template sits.
Fold the bottom up to within 1-1/2 inches of the top of your template. Then fold the sides of the paper gently up and over so that they overlap at least 1/3-1/2 inches. This will create the creases for the seams you will be using.
Fold the top down, ensuring it overlaps your bottom portion enough to create a closure (usually at least 1/2 inch).
Now you will cut off the pieces you don't need. Cut the inside portion of the seams.

Then cut these same pieces off of your top flap down to the top edge of the bottom flap, but don't cut below that. The edges left will be your side closures.
Now we will paste the seam edges closed. You can "paint", dab or smear a small amount of paste or glue to the folded edges and then fold them on top of your envelope to create the closures on the sides. Only a little is needed.
Let these dry.

Making The Notecard

Measure the opening you have in your envelope from the bottom edge to the top crease. Subtract about 1/4 inch and double this to get the length you will want to measure for your note card.
Measure from straight across from left to right and subtract about 1/4 inch to get the width.
Cut out a sheet of interesting looking paper in using those measurements as a guide.
Fold this sheet in half.
Take a piece or two of your plain paper and cut it to the size you would like to write your note on.
Paste this on the inside and if needed the back of your note card.
Let this dry

Write your note and slide it inside the envelope. Fold over your closure. You can either paste your envelope closed after inserting the notecard, or just fold the flap inside the envelope. Or make a set and give them to a friend as a gift.

By Mara from Seattle, WA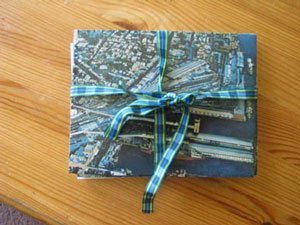 Add your voice! Click below to comment. ThriftyFun is powered by your wisdom!
Add your voice! Click below to comment. ThriftyFun is powered by your wisdom!
Related Content
In This Guide
Categories
Guides
More
Categories