Any advise for heel spurs caused from Planter Fasciitis? I was already over weight and quit smoking and gained more weight. I want to walk to lose the weight but it is so painful. I walk through the pain and it just makes it worse. I went to the foot doctor and had those painful shots. My insurance will not pay for the shoe inserts from the doctor and they are $350. Any suggestions?
Wacky Camper
Answers:
Remedies for Heel Spurs
I agree with terdralyn. Stretches helped me a lot.
Also, my doc gave me a brace to wear at night to keep the foot muscles stretched. Will your insurance cover that? It looks like this
http://www.healthproductsforyou.com/catalog/products/10890/Bilt_Rite_Night_Splint_BlueWhite/
Don't get the ones that look like this because they stretch your toes wrong:
http://www.feelgoodstore.com/cgi-bin/feelgood/postkey_find.html?cm_mmc=channel-_-engine-_-media-_-28358&keywords=28358&media=GF0569&srccode=cii_5784816&cpncode=23-4017111-2
If your insurance doesn't cover it, it still might be worth it to buy it since they only cost $25 - $50.
(10/30/2008)

By Jean
Remedies for Heel Spurs
I found some shoe inserts at Wal Mart for foot spurs and Planter Fasciitis. They were less than $10 here. I also got some that are super sport arch support that have helped a lot too. They were less than $5. The stretches help a lot. I did an internet search and found a lot of great information on what causes Planter Fasciitis and ways to treat it. It takes time to heal and don't push through the pain to continue walking. I did that and my main accomplishment was more damage.
For the swelling my doctor has me take Motrin (800 mg) 3 times a day BUT CHECK WITH YOUR OWN DOCTOR before doing that. Doctor also told me to fill a 16 oz plastic soda bottle with water and freeze it. Then use my foot to roll the bottle while I'm on the computer, watching tv, etc with the bottle on my heel and arch area. It numbs the area, helps with swelling and the pressure helps stretch the tendons, ligaments and muscle. (10/30/2008)
Remedies for Heel Spurs
I bought pro foot miracle custom molding insoles (memory foam) for all my shoes and have not had a problem since. Try them. They are like a miracle for me. They are easily found in most drug stores. (10/30/2008)

By Jan
Remedies for Heel Spurs
You may want to try a pair of CROCS. Cheap and comfortable for sore feet. (10/30/2008)

By Pat
Remedies for Heel Spurs
I had heel bone spurs also and they are very painful, I tried everything I could to put on my heel or in my shoe. After 5 pairs later they still hurt I bought a pair of crocs at the dollar store to walk to the mailbox in and that's all I wear now. I wore a pair of regular shoes for a couple of days last week and my heel started hurting that night, put the crocs back on and no more pain. Hope this helps. (10/30/2008)

By barbara
Remedies for Heel Spurs
I had exactly what you are talking about, large heel spurs about the size of my thumb, one on each heel. I too was trying to walk, and it was so painful I had to stop. After about 2 years of buying shoes, I went to an Ortho doc. My niece had told me about some shoes that had springs in the heels, so I searched online to find them and finally did.
I asked the Ortho doc about the shoes and he told me that he wouldn't endorse them because they haven't been approved by any medical association, but he knew several people that bought them and had very good luck. So I went to the store and spent an hour and a half with a pair on my feet, they felt so good, all the weight is off of your heels.
The shoes are around $200.00 per pair, but, most of the time when your shoes wear out, it's the heels, for $20.00 you can get new springs, I do this about once a year. Needless to say I bought a pair, then about 6 months later I bought another pair, the first pair I use for walking, the other pair for everything else. I know $200.00 is a lot to pay for shoes, but if you are like me, you spend tons already on shoes you CAN'T wear, spend money on many kinds of inserts, even the ones the doctor prescribed and still you have pain.
I know I sound like a salesman for these shoes, but honestly it was the best purchase I ever made. It did take a few months of wearing them every day, and never going barefoot (except in the shower), but I am pain free, I can walk and my heels do not hurt. The name of the shoes Z-Coil. I wouldn't recommend trying to get them cheap online through E-bay or anything because they actually have to heat up the arch support to mold them to your foot to get them just right, that part took me about 2 hours, but I have never regretted buying these shoes. If you have any questions you can email me at Tamasa AT aol.com. Here is a picture of the ones I have. (10/30/2008)
By Tammy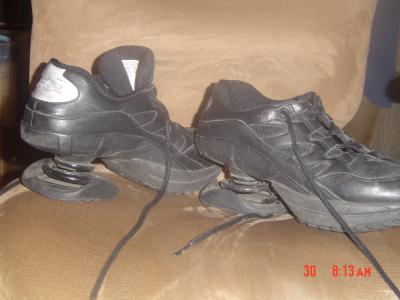 Remedies for Heel Spurs
I had heel spurs too and spent money at the podiatrist, etc. Then I found out about a method called "trigger point therapy" where you can work out sore knots in various parts of the body to relieve pains nearby. The trigger point for the heel is on the back of the calf. Feel around on your calf for a tender spot and massage that spot. This should help and can be done whenever needed. (10/31/2008)

By Peggy
Remedies for Heel Spurs
I have never personally had plantar fascitis; however, a member of my family had it and he was told to roll the sole of his foot over a bottle for a few minutes each day. He did and it seemed to help him. It's worth a try, anyway, as it doesn't cost anything but a little bit of time, right? Hope you get relief soon and God bless you. (10/31/2008)

By Pat Giles
Remedies for Heel Spurs
I too have had these problems with my feet for years. I have had many cortisone shots from a podiatrist. They never helped for long. I found shoe inserts at WWW.heel-that-pain.com. I wore these and after about 6 months the pain is gone, not even there when I get up in the morning. They claim a 99.7% success rate. Read about them at their website but they are cheaper to order them from WWW.footsmart.com (10/31/2008)

By Elaine Hiatt