I enjoy making a lot of the gifts that I give my grandchildren and when you have 5, it always helps to get an early start on Christmas. I try to think of a new idea each holiday for them and this year, as one of their gifts, they will be adopting an alien and a pet. Sock animals have survived for generations, but making them into alien creatures was a fun, new twist for me.
Approximate Time: 1-2 hrs.
Supplies:
1 pair child's ankle socks
1 pair adult toe socks
stuffing
buttons
felt: red, black, and white
needle and thread
Background and scope of the project:
This clan of creatures reign from the planet Zuff and will pass on a "special" power to their new Earth friends. For example, one is giving the gift of humor and will be the comedian of the family. Another will help our planet stay green and will be the gardener of the bunch.
I made up a little story that introduces each and wrote it in a way so that the alien was talking to the specific child. I included a picture of the alien, the child, and the pet.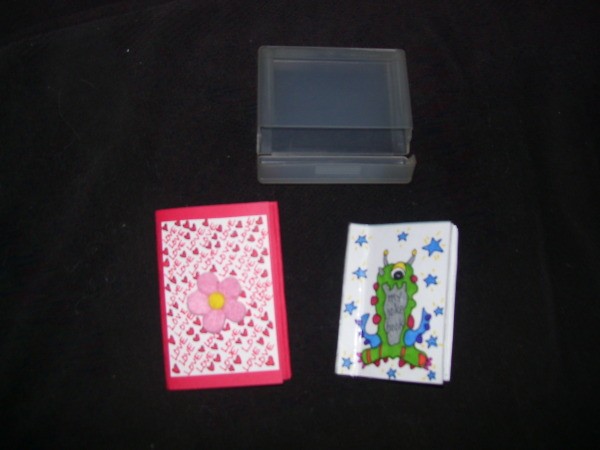 In the comedian's book there are also some alien jokes. The gardener's book has short children's poems about gardening.
Travel size Q-tips come in their own plastic snap shut box so I made the books a size to fit into one of these. They made a great case for each. I will tie them to the creatures using ribbon.
Each one will also get "tools of the trade" goodies. The comedian will get a few gag items (Dollar Tree has a good selection of these in the toy section), such as a whoopie cushion so he can spread humor where ever he goes. The gardener will get a small peat pot, seed, and soil to grow some flowers.
I am choosing their powers to fit each child. For example, my grandson who will get the comedian, always seems to have a smile on his face. He never ceases to make us all laugh. I often remind myself to see the world through his eyes for he is a wonderful example. The youngest one will be the gardener. She finds much joy in seeing something she planted grow. I am still working on the other books, but one will be an artist, for sure.
As a grandparent, I try to pass on encouragement and positive words. They all love to create things and since this gift will contain the alien and pet (the toy itself), a book (praise and encouragement of what they do), and the added "tools of the trade" goodies, I think they will enjoy them.
This entire project started when I found a book that came with instructions to make a sock creature. Although I enjoy designing my own crafts, this little one was just too cute to resist. I had so much fun making him that I decided to create some of my own. I did not preplan any of mine. I had a bag of socks along with some imagination and then just allowed the inner child to come out.
As the alien family grew, I wrote down the steps to make Zik and wanted to share his instructions with the TF readers. I have included a family photo to show the variety of ways socks can be used to create creatures.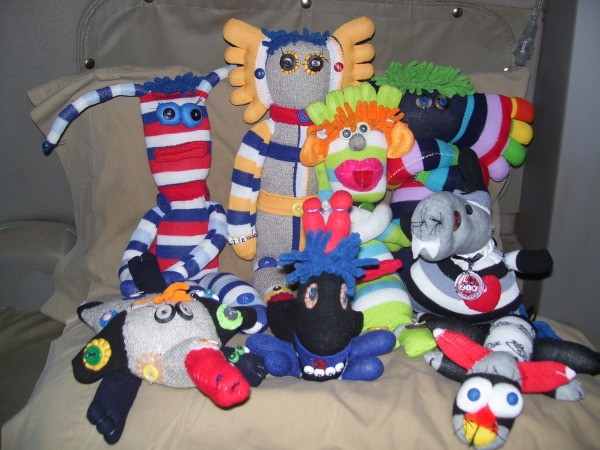 Letting my mind wander further, since this alien family comes from the planet Zuff, I decided their last name would be Zock and all their first names will begin with the letter "Z". The inner child really did come out.
Sock creatures are fun to make and do not require a lot of materials. All my grandchildren are older, so if you do make one that is intended for a younger child, I recommend that you omit any buttons and use something safer for young ones. For those who will try creating a sock creature, I wish you as much fun creating them as I had. You may even find yourself giggling along the way.
Instructions:
You will need one pair of children's anklets and one pair of toe socks. Although toe socks are no longer popular, they do make great stuffed toys for children. You can still find them in some stores. Check in discount and thrift stores also.
Cut one toe sock into three parts. See diagram #1. The middle section will become the body. See diagram #2.
Take one of the anklet socks and stuff it firmly. See diagram #3.
Make a running stitch along one end of the middle section. See diagram #4.
Gather, stitch closed to hold and insert into sock head. Pin all around and stitch outer diameter so the two are joined together. See diagram #5.
Take one cuff and cut in half for feet. See diagram #6. Put right sides together and stitch closed, leaving one short end open. Stuff. Insert into pinned bottom edge of body and sew closed. Repeat for other foot.
Do the same with cuff from other sock for arms and sew onto animal. See diagram #7.
Use strong thread to indent head. Knot thread. Start by going in at point "A" and come out at "B". Go back in through "B" and come out at point "C". Go back in "C" and come out at "D". See diagram #8. Repeat again, being sure you pull thread tight enough to indent material. I left a few threads sticking out the front indents to resemble fire. Sew buttons on side indents.
Do the same for eyes and attach buttons. See diagram #9.
Turn other anklet sock inside out and lay flat. Pin. Sew along pinned line, leaving cuff end open and cut off excess. The part with the "X" will be the tail. See diagram #10.
Turn right side out and stuff firmly. Sew to bottom of body in back. See diagram #11.
Cut toe section off other toe sock. Use toe sections from both socks and stuff firmly. See diagram #12.
Pin along top of animal, starting at the top of the head and continue down to the tail. Sew to animal. See diagram #13.
Cut tail spikes from one solid strip of black felt. Sew on to tail.
Cut 2 pointed teeth from white felt and sew onto front of face, right below the front indentations.
I braided rope and made a collar. I then poked a hole in a bottle cap and attached a jewelry loop through it. I filled the cap with clear glue and sprinkled on some red glitter. I named this animal Zik and pressed letter beads that spelled the name into the glue. I allowed it to dry and attached it to the collar for a name tag.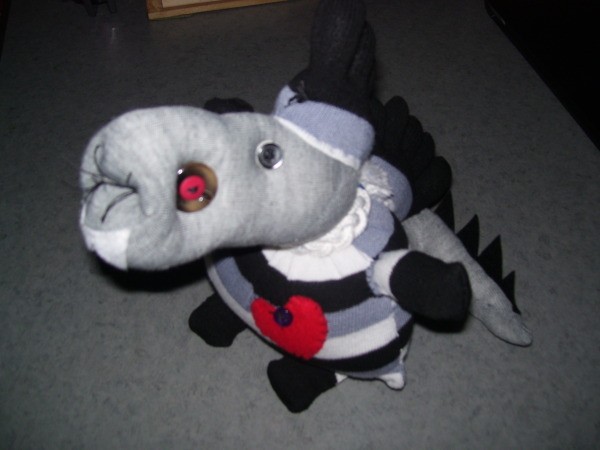 Tip: The cute, colorful hair used for these creatures is from cleaning mitts. These are gloves with the nubby ends on one side that you dust or clean something with. They look just like a large mitten and I found them in Dollar Tree. They come in several bright colors. The back side is stretchy material and I used it to make ears on one of my sock creatures. You can cut pieces from the nubby side and they are made well enough so they don't unravel. You can find them in stores such as Wal Mart also, but they cost more there.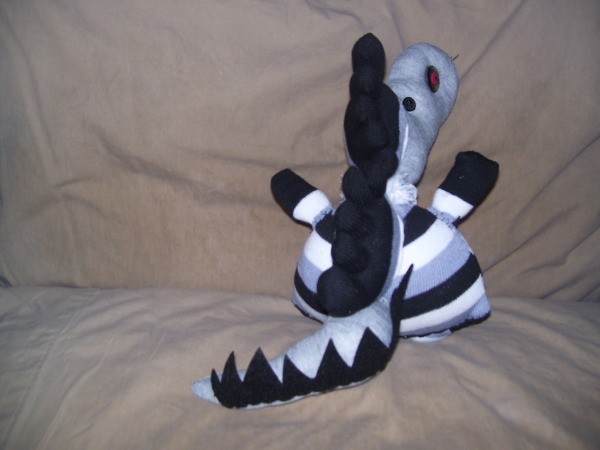 By Mary from Palm Coast, FL