Wrinkles is a 7 year old Boston Terrier. In June of 1999 we lost our first Wrinkles. We had loved him so much. He brought a lot of love and joy to our lives. The house was just empty with him. We decided to buy another Boston. We found a family in the country that raised Boston's. At first we were going to purchase a female since we didn't think we could ever replace our Wrinkles.
Then the little girl of the family went inside the house and brought out a puppy. It was our Wrinkles! He looked almost exactly like the Boston we had lost. As soon as we held him we knew he was ours! We named him Wrinkles the Second!
His favorite game is "mouse". My husband will put his hand under the bedcovers and move it around saying "look Wrinkles there's a mouse!". Wrinkles will bark and jump at his hand. He knows it is his hand but still loves to play the game. He also likes to bite at my shoe strings when I walk outside, trying to untie my shoes!
Wrinkles is the most loving pet I have ever had. He follows me around and sleeps by my side at night. When I'm unhappy, all I have to do is look into his loving eyes and I'll cheer up!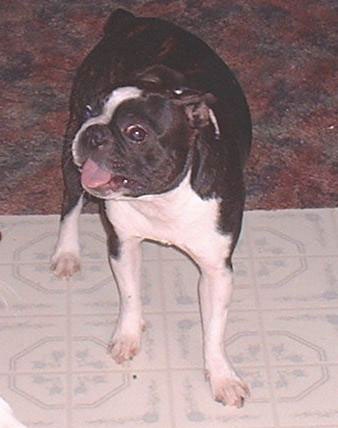 By Cynthia from Ava, Illinois