Myrna
Bronze Feedback Medal for All Time! 168 Feedbacks
April 10, 2009
0

found this helpful
If the carpet is wall to wall and you believe it would look better or more complimentary to have a large area rug (solid or print) that fits your idea, then go for that if it's affordable to you. He keeps the original carpet intact and you can plan around it. Think light colors. Look for a print area rug that has the color of the wood furniture in it, and get solid curtains or drapes that is in the area rug for the room.
Choose a color in the carpet that is the lightest for the walls if you desire to repaint. You could also cover the furniture with throws of the color you desire to use and add toss pillows. Mini blinds are also nice with a valance. If you choose to not cover the wood furnishings and they have print fabric upholstery, then use a solid color area rug.

April 10, 2009
0

found this helpful
Sorry to say this but if you all are not engaged, save your money, if you are engaged & have a set date then it might be ok! Is he paying for it? Good luck.

Julie
Bronze Feedback Medal for All Time! 149 Feedbacks
April 11, 2009
0

found this helpful
Sounds like all you can do is paint since you cannot change the carpet or furniture not much else you can change. If the room is real small you don't want to go to dark on the paint color of the walls or it will feel even and appear more smaller. Maybe you could change the set of fabric on the window treatments and bedding, add an area rug in front of something to add to the new look.
Put up art work, maybe by B&W enlarged prints of something he likes, sports, fishing etc. As long as he is paying for it, if not I would forget it.

April 11, 2009
0

found this helpful
Decorating for someone else is a dangerous thing, especially since you've already told him at least a few times that you want to change the decor in his bedroom.
Being "willing" to allow something doesn't make him sound happy about it at all. I agree with the other posters to save your $.

April 11, 2009
0

found this helpful
They sell lots of "removable" wall papers or borders now. If you are going to paint, try the Ooops! racks at home improvement or box stores, before buying at full price. They always have paint that was not what the requestor expected that is marked down by either a percentage or flat amount of say $5 per gallon. You could paint in a neutral color, like beige or gray and then use a removable border around the room at chair height or at the ceiling.
Use a earthy theme to keep it manly. You can then find a coordinating fabric to provide curtians and bedding. To keep it less expensive and more versitile, try a solid comforter with a couple printed throw pillows and matching curtain/swag. Try a thrift store or tag sale for a few wall hangings, a lampshade, etc. or wire a lamp yourself from a thifty find.

April 12, 2009
0

found this helpful
RASTERBATE. Sounds gross, I know. Its just blowing up and pixelating a picture into huge designs. Here is a website to Rasterbate:

April 14, 2009
0

found this helpful
I got some pic. Is there any hope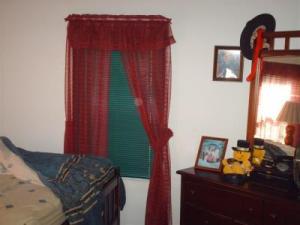 April 15, 2009
0

found this helpful
Make him some more manly curtains. Look for a skull & crossbones fabric or even checkerboard. See if you can get rid of the greenish blinds in exchange for white LOL. Or make the color a complimentary to another color.
Either way, get new curtains :). Go with a black and white theme with photos. Accent with the greenish blind color, or get rid of em and accent room with his favorite color.