May 2, 2008
0

found this helpful
Make Your Own Cloth Diapers (From Recycled Clothes)
I don't even have kids but if I did I would definitely try this. You are so clever AND thrifty. Thanks for sharing!
Pat (03/28/2006)

By Pat
Make Your Own Cloth Diapers (From Recycled Clothes)
Making cloth diapers is a great idea. Unfortunately, I didn't have that option when my kids were born (1963, 1964, and 1969). I bought clothe diapers for the first child, thinking that would be enough. 11 months later the second one came. More purchasing of diapers. They were handed down to the 3rd. child. Finally they all were through with them and then it was MY time to really enjoy them. Oh my - what grand cleaning cloths I had. And they lasted for so many years, they certainly paid for themselves! (03/28/2006)

Make Your Own Cloth Diapers (From Recycled Clothes)
Great way to recycle! Thanks for sharing this...thank goodness my kids are teens!
(03/28/2006)

By Michele
Make Your Own Cloth Diapers (From Recycled Clothes)
I never made my kids cloth diapers but if I was doing the baby thing all over again today, I would definitely purchase bulk flannelette from the fabric store and make my own cloth diapers. I just used store bought flat fold cotton diapers, rubber pants, and diaper pins. (04/05/2006)

By Lorraine
Make Your Own Cloth Diapers (From Recycled Clothes)
Wow! You are quite the entrepreneur! You should consider going into business for yourself and market your "homemade diapers"! I have nine grandkids, all under 6 yrs of age and the babies go through the Pampers like crazy! Great idea! (04/18/2006)

By Kathy
Great Idea!
Great idea to use old t-shirts! I can't wait to surprise my husband with one made with his favorite sports team logo! love it. (02/18/2007)

By Bethany
Sew your own diapers
You can find high quality waterproof material

Today's Cloth Diapers are amazingly easy to use now. If you haven't checked them out in the past couple of years, just do a search on google for cloth diapers, you'll pull up thousands of sites!

NO pins, no dunking, no leaks, no rash, no bulk, no toxic chemicals, and no waste for the landfills.

And best of all no $2500 price tag! And that's if you don't change the disposables very often and let baby sit in their own waste, ewww! Cost more if your baby goes past 2 till potty training, about another $1000 every year.

If you sew you can get enough cloth diapers to last for 2 years for $70. Even if you don't sew, the cost for 2-3 yrs worth of high quality easy to use cloth diapers goes to between $100-300. Just to get enough to start out using cloth is as low as $30-50.

Compared to $2500 or more for disposables, and your baby will be healthier, happier and your wallet fatter, there is just no comparison!

email me for more info! hi_eagle AT hotmail.com
(03/05/2007)

By Sarah Markie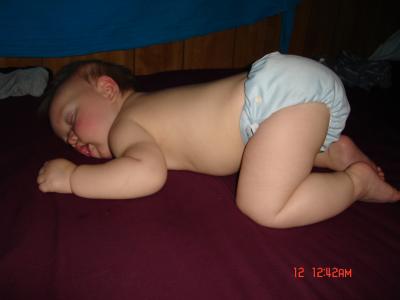 Make Your Own Cloth Diapers (From Recycled Clothes)
This is the best idea ever. Thank you. (07/01/2007)

By Mama Bobi
Make Your Own Cloth Diapers (From Recycled Clothes)
Great idea! When I have kids, I will defiantly use this! way to cute! (12/24/2007)

By Tonya