By Doggy (Guest Post)
April 19, 2007
0

found this helpful
It's more important that your GROOMER knows the proper cuts. It sounds like you'd be better off finding a groomer that's familiar with the breed and its styles. Here's a google list that may be helpful to familiarize you with different cuts
April 20, 2007
0

found this helpful
It IS hard to find someone who knows how to cut a Yorkie.
Unless you're showing your dog, or showing it off to prospective puppy buyers, the dog doesn't need a show "cut." That is, long, flowing hair and a topknot bow.
For every day style, I keep the legs long, but trimmed back at the toes; the body trimmed just at the bottom of the belly; the ears free of hair for the top one third; the face and beard full, but not more than half-way to the ground. Keep the hair around the anus cut very short. Who wants to comb poo?
The teddy-bear face, a little shorter, is very cute.
The best bet is a groomer who knows what a Yorkie is supposed to look like.
By Linda (Guest Post)
April 21, 2007
0

found this helpful
A groomer should have been trained to do standard cuts for most breeds. If she doesn't know how to cut a common breed like a Yorkie properly, what else doesn't she know about proper grooming techniques, hygiene, etc. Perhaps you need to find a more skilled groomer. That said, a show groom is hard to maintain at home.
If your cutie is a pet, go for whatever groom you want that looks cute and that you can keep up between professional cuts. I have a pet, show-quality Lhasa, but would never want her is a long coat show groom-no way could I maintain her at home on a day-to-day basis. It would take longer to do her hair than to do my own!
By Beverley (Guest Post)
February 9, 2008
0

found this helpful
Hi, I live in the U.K. and own three lovely yorkies. I think you need to find a new groomer, someone that has been in this business for over 5 years, and actually tell her what u want her to do. I have even taken pictures into my groomer and she always gives great results. The best trim for a pet yorkie is 1-2 inches all over the body, 1 inch over the legs and a teddy bear or puppy cut face, and your dog will thank you for it. They love having their fur trimmed short. This pic is of Rosie a few weeks after a cut. It was a little long on the face though.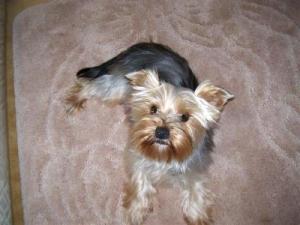 By Beverley (Guest Post)
May 21, 2008
0

found this helpful
I posted before with the picture. just tried a new style on my little boy and it looks fantastic his back is shaven with the shortest clipper guide from the top of his legs down in a line all around his body is left 2 inches long the he has a teddy bear face with a top knot it looks really really cute.
By Wolf (Guest Post)
November 3, 2008
0

found this helpful
I think the Schnauzer cut is beautiful as is the puppy cut.
By goodhaxa (Guest Post)
November 10, 2008
0

found this helpful
A puppy cut is easy to maintain for the average pet owner. Yorkies really shouldn't be shaved unless matted. Sissor trimmed if the hair is left long.
The Schnauzer cut as someone suggested is a bad idea, it won't even look like a Yorkie, get a Schnauzer if you want that. I am a groomer and Yorkie owner.
By Evy (Guest Post)
November 28, 2008
0

found this helpful
I just got a 1 year old Yorkie, it was a group discussion on whether she may have some silkie in her due to her length. In any case we brought her to the groomer. Isn't she suppose to have all the little hair between her pads gone, and the length on her "ankles" trimmed to 1/2?
They left her overall length longer than her belly, as a result it tangles all during the day, cute but snarly. I like the fact they can still look sweet shorter but was afraid that it would stick out sideways. She is my first Yorkie we have always had mini-schnauzers. We are amazed at how smart she is, so young and so small! Very much in love with our Grace.
July 20, 2009
0

found this helpful
My yorkie Sparky is 1 year old and we are letting his hair grow out ...however the underneath belly part we have shaved since he gets himself wet and very tangled if we let it grow. They do cut all the hair in between his toes and they clean him up around the eyes and level his hair around his face and they trim the tips of his ears.
I chose this place All About Puppies because I loved that they leave him looking like a yorkie not another breed I hate the poodle cut for a yorkie.