September 10, 2008
0

found this helpful
I've heard that you can use peanut butter to remove sap... Just make sure you shampoo out the peanut butter or all the neighborhood dogs will be licking her fur!
That "Goop" hand cleaner works pretty good as a stain fighter for greasy stains, why don't you give it a try.
September 10, 2008
0

found this helpful
You can use Crisco, butter, olive oil or anything greasy - work into the hair with the sap - it will loosen the sap from the hair - then shampoo or wash off with a soapy rag.
It works good on kids that get sap, gum, tar etc. in their hair.
April 27, 2017
0

found this helpful
Olive oil, gently massage and scrape, then wipe with paper towels to absorb the oil. Worked great and is safe!!
September 10, 2008
1

found this helpful
I've always used just a bit of baby oil on my black lab when he gets into stuff. Squirt a little spot on and comb out the 'stuff'. It usually gets it all out and doesn't hurt his fur either.
September 10, 2008
0

found this helpful
I used to use 409 to get pine pitch off my goats. Some liked nail polish remover.
September 10, 2008
0

found this helpful
You could some cornstarch or baby powder (great things from the 60's we used to put in our hair when no time to wash it. Then the instant powdered shampoos came out.)
Rub it in, brush it out.
If you are into shampooing the dog, don't use dog shampoo, it is made from allergens, ragweed extract, etc. We use Johnson & Johnson Baby wash for the kids and the dog. The dog gets in the shower as much as she can with whomever. Tender on the fur and skin, non sudsing. Dog: German Shorthair.
By Coll (Guest Post)
September 12, 2008
0

found this helpful
Try using Lestoil. It works very well at removing sticky things.
September 19, 2008
0

found this helpful
Hi, use butter to bring it down. Gently try to comb it out or if necessary cut out what can't be combed out. My baby gets pitch in her feet hairs and is a real pain. I only use butter when it is time for her bath again. I will do the butter earlier in the day so I have time to work the pitch out and so that it is still early enough to bath her before the sun goes down. Hope this helps.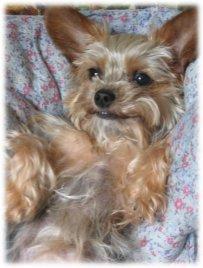 By Doxie Mama (Guest Post)
September 22, 2008
0

found this helpful
I was told by a groomer to use WD40, that it works wonderful just be sure you wash it off when finished so the dog won't lick it off.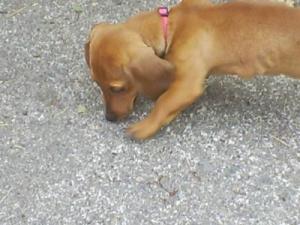 By Lucy (Guest Post)
October 9, 2008
0

found this helpful
Any idea what to do if my dog has tar in Her hair & in her paws?
October 23, 2008
0

found this helpful
I read the suggestions, grabbed my dog, olive oil & a comb. The dried sap was out in about 8 seconds! Thank you, thank you, thank you!
July 27, 2016
0

found this helpful
I realize this is an old thread, but I want to thank you for your post. I read it and did just the same. I also had a bowl of warm water and Fairy - that is the equivalent of Dawn in Greece- ready to go along with some old rags which served as washing and drying cloths. My dog took his cleaning like he was having his weekly massage and is "all better" now!
Many thanks!