By (Guest Post)
August 5, 2008
2

found this helpful
I have a pit bull that does the same thing. She begs to go out and when she does- she grazes like a cow. I've asked a Pet trainer, they say maybe they just crave something fresher or "live" vegetation. Not sure if that makes any sense- maybe it's to supplement something missing from their diet. I just know that my dog loves green vegetables, green beans, brocoli and looooves eating grass. Knowing this- I DO NOT put any fertilizer or chemicals on my lawn or throw anything in the yard that could hurt her. She does not throw up and seems to enjoy it so I let her graze away. Sorry, I guess that probably doesn't help. Just wanted to share.
June 29, 2016
1

found this helpful
My dog do the same thing is it healthy or what ???I would like to known anyone out their known the real truth y Dog eat leaves 4 cloves my dog eat ...need to known ???
August 18, 2016
1

found this helpful
My 12 year old dog discovered these green leaves a couple years ago. Im in the Midwest, so the leaves only grow from mid June to frost season. He is highly addicted and now our walks map out to where the leaves are. He can spot them from a close distance, and gets upset when they're not the ones he likes.
I cannot pick the leaves and feed him because he likes to tear them off. He has Mastof Jowls, so I laugh most times. So far he's ben good and the vet doesn't worry. I plan on taking them to a botanist I know to see what they are really. Good Luck
January 25, 2018
0

found this helpful
My pit bull does the same thing every time I take her out to potty. It could be a brown leaf, or magnolia leaf, or weed... I have her on a good dog food, and I dont use any chemicals on my lawn.
August 5, 2008
2

found this helpful
My little girl does the same thing! My husband always says there goes the little vegan. :) She loves her some leaves, weeds, and grass. She does not seem to have any bad reactions other then sometimes the sneezes (I am pretty sure she has allergies - the type of breed she is - Boston Terrier - are prone to allergies). I read or someone told me they do that to help settle upset stomachs. I think Bella eats it because she likes it! :)
PS You have a cute boy!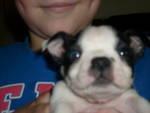 April 23, 2017
1

found this helpful
I have a 2 yo Rott male and he does the same thing sometimes. He goes in our garden and eat leaves of almost all plants. If we try to stop him, he doesnt care n listen. We dont have grass in garden so ia it possible that he eats other plants to get relieved from upset stomach?
I didnt feel good to see him running here and there to eat plants..
August 5, 2008
1

found this helpful
Usually when a dog eats grass, etc. it is because they have an upset stomach or a vitamin is missing from their diet. Try to feed them an Ultra Permium dog food that has all the vitamins that your pet needs and no fillers.
By Shannon (Guest Post)
August 5, 2008
1

found this helpful
I have had many dogs over the years and most all of them do this. It won't harm them. Just make sure they don't have access to any poisonous house plants. Good Luck
August 5, 2008
0

found this helpful
If dogs who eat green growing things have upset stomachs my dogs must have them constantly. Sometimes it looks like I have 3 cows instead of 3 dogs when they're all doing it at once.
We feed ONLY Science Diet and have for many, many years. They run, play, jump, tussle, enjoy life, and eat grass. It doesn't seem to hurt them and they don't seem sick so I can't see any harm in it.
By Me (Guest Post)
August 5, 2008
0

found this helpful
From what I've read it's not necessarily true that they're "missing something" in their diets. They like to eat grass etc. It tastes good to them. I have had all perfectly healthy dogs all my adult life & they have all eaten grass & one even eats leaves. There ARE, however, plants that are poisonous to dogs so do a search on-line & make sure your dog is safe. Some of them can be deadly.
By Corinne (Guest Post)
August 5, 2008
0

found this helpful
Unlike cats, dogs are not strictly carnivorous, in fact, in the wild, canins like foxes and wolves eat grass occasionally. This may be to cause upset stomachs (is your dog throwing up afterwards? He may have digestive problems and getting herbaceous material in his stomach provokes a vomiting reaction which in turn makes his tummy feel better) Or, the grass/leaves may be supplying a nutrient that he is not getting with his food.
Babies develop pica (eating inedible things such as matches) in order to find nutrients they aren't getting, your dog may be eating leaves/grass for the same reason.
That said, be careful that you do not have toxic plants around your yard, or even toxic/poisonous house plants in the event he decides it's a good idea to eat inside. If he is damaging the landscaping/plants you don't want eaten, try bitter apple spray. It will discourage him away from those plants and will encourage him to eat less potentially dangerous plants like grass.
By Madeline. (Guest Post)
August 5, 2008
0

found this helpful
My 12 week old min pin dose the same thing. Can't stop him.
August 5, 2008
0

found this helpful
My adult daughters cat does the same thing. We can't bring flowers or plants into her apartment or the cat can't resist them! ...I mistakenly put some rhododendrons into a glass of water that a friend had left off while my daughter was napping & didn't know they were poisonous. I lucked out that time & the cat's okay, but now I know to never bring foliage or flowers into the house again because Princess will eat ANYTHING that grows! This cat also can't resist anything plastic, be it plastic bags or plastic bread ties (which she can choke on!) SO we are super careful!
This is an indoor cat, so it's fairly easy to keep an eye on her, but you are going to have a much harder time keeping an eye on your dog. You are going to have to learn what's poisonous around your home & yard & what's not & do your absolute best to stop him from eating these things. We don't know why this cat eats flowers, but she can't resist them. I suppose you'll just have to substitute a chew toy instead... Sort of as a doggie "pacifier".
You can also buy or plant a flat of wheat grass inside near a window or outside on the porch. Wheat grass is safe for your dog to eat & won't harm him &, maybe it'll give him his "fix". But watch out, because if he does throw it up, it can leave green grass stains on your carpeting.
By Barbara J Snyder (Guest Post)
August 5, 2008
0

found this helpful
My dog does the same thing she loves to go out side and eat the tall grass she only likes certain ones I will not buy a poinsetta because they are toxic I have a cat too. I give kitty this indoor cat food that has greens in it.
By (Guest Post)
August 5, 2008
0

found this helpful
I posted earlier and forgot to tell you- you have a BEAUTIFUL dog!
By rabbitlady (Guest Post)
August 6, 2008
0

found this helpful
Dogs will eat some kinds of grasses to make belly feel better when they feeling sick.They usually eat field grass horses love to eat. Some vets say it good to grow grass in pot in your house for them in winter months.
January 30, 2017
0

found this helpful
My pit/Lab , Charlie keeps eating like a shopping bag full of leaves and then throwing them up when he gets back inside, ( sooooo gross ) there is something seemingly wrong with him , idk what it is or why he is ingesting so many dead leaves at that :0 I hope someone can help i can't afford a huge vet bill atm so I'm saving as much as I can to be able to bring my poor Charlie boy to get evaluated. Please! any answers would be appreciated. I'm am so worried about my fur baby Charlie Aka Chuck Lee. P.s his mom our lab Tobera and our little yorki does not do the same , Charlie is the only one that eats a ton of dead leaves
August 6, 2008
0

found this helpful
When my Yorkie does this I give him 1 tsp of canned pumpkin... not pumpkin pie filling but plain canned pumpkin. I put teaspoonfuls of the pumpkin on a cookie sheet and freeze them. When frozen, I store in plastic bag in the freezer. When my furbaby needs one, I put one in the microwave for 30 sec. Sometime I have to add a little cheese or chicken to make it more appetizing, but it usually does the trick.
By AMy (Guest Post)
September 17, 2008
0

found this helpful
There could be something missing from the diet or it could be just something fun to do. Get a large Kong toy from any pet store and fill it with wet dog food, broth, leftovers whatever and then freeze it. The next time your dog goes out side give it to him. he won't be able to avoid the great smell and will stay busy trying to get the goodies.
August 18, 2016
0

found this helpful
A lot of dog kibble contains mostly meat, meat by-products, and corn or soy (or both). These grains are hard to digest. A healthier food will contain things like peas and sweet potatoes. I'd try switching to a better quality food with vegetables in it.