February 21, 2009
0

found this helpful
OK I just made this.
Quick, easy and recycled

Chicken Feeder
1 Frisbee-- flying saucer the short Lip keeps the food in better than a dinner plate.
1 nut and bolt
1 plastic pretzel jar
1 length of clothes hanger
chain for hanging, I tried lightweight rope and it broke after a short time.
Carefully cut 3 or 4 half moon shapes evenly spaced around the bottom of the pretzel jar where it will rest on the flying saucer.
Using a heated screwdriver or soldering iron melt a small hole the size of the bolt in the middle of the bottom of the plastic jar and the middle of the flying saucer, slip the bolt through and connect the 2 and bolt together.
Take a piece of metal clothes hanger approximately 12 in. fold almost in half then fold in the bottom inch. Melt a smaller hole right under the lid of the pretzel jar to insert the clothes hanger don't forget to thread the clothes hanger through your chain before putting the 2nd side in the jar, then been the hanger up on the inside to secure the clothes hanger to suspend the feeder .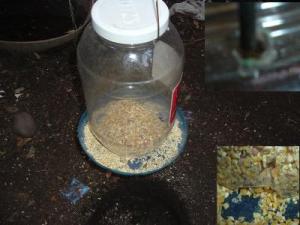 June 3, 2009
0

found this helpful
Yes there is a homemade chick feeder posted now and we will be posting some of our home made waterers in a few days, they sure are expensive to buy so we "invent" new ones all the time trying to save money and use stuff we already have.