May 21, 2010
0

found this helpful
I would contact the local girl and boy scout organizations in your town. Also notify the high school and see if they put the word out. There are many community service clubs at the schools. High school students who want to go on to college are all looking for community service projects as the schools usually would like to see some component of service on their activity sheets. Good luck
November 14, 2010
0

found this helpful
I hope you haven't abandoned this idea! I'm not sure about where to find volunteers but sometimes people will help out if there is food or some other reward. A flier with the info offering drinks or possibly snacks. In nearby towns here there are craft groups.They meet regularly. I would want to try to call them to discuss the idea.
Also, Senior Centers might be a place to get the ball-o-plarn rolling so to speak! If no one responds to you or can't help, consider keeping the materials for yourself if no one minds. You could learn to crochet if you don't know already & make something useful & use it somehow in the library.
How about a poster depicting what it is,what it's for, showing a couple of ways to use it? If a free short course or workshop was offered to library patrons maybe the idea would spread. Get the videos from Youtube to show or provide those attending with a visual demonstration. Provide everything needed to learn.
Allow them to take home what they create & invite them back for a group project.
Sometimes the best ideas don't catch on really quickly. It takes time.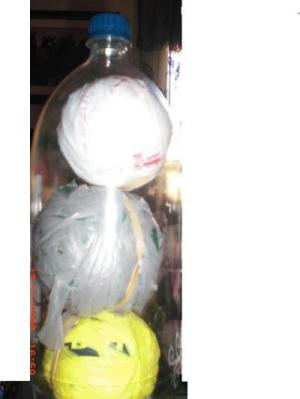 November 14, 2010
0

found this helpful
Amy3e
You reminded me, the art department may also be a good place to get helping hands.
Here is a free to use online tool to make flyers to print to post or handout www.band-flyers.com/
A couple of the functions don't work unless you are logged in.