Cleaning Teflon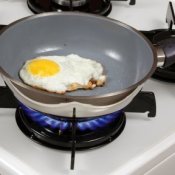 How can I clean my scummy Teflon pots and pans? Actually, this is an answer to that question from my mother.
Add 2 tablespoons of baking soda and half a cup liquid bleach to 1 cup of water.
Pour mixture into Teflon pot or pan.
Bring mixture to a simmer (not boiling) for 10 minutes, but no more.
Pour out mixture into sink. Repeat if needed.
By Kenn
Read More

Comments
9 Questions
Ask a QuestionHere are the questions asked by community members. Read on to see the answers provided by the ThriftyFun community or ask a new question.
I was wondering if anyone knows how to clean a teflon coated griddle that has a dark buildup of cooking oil and cooking spray and is very sticky to the touch. I just can't seem to get it off. Also, I used my steam iron to apply a patch to some fusible web and now my iron seems to stick when I try to iron something and will not iron smoothly. I tried some white vinegar on a paper towel while the iron was hot and it helped alittle, but it still drags when I try to iron something. Does anyone have any idea on how to remove this buildup?
By Kathy
Answers
November 14, 2016
0

found this helpful
Best Answer
Not on non stick, wire brushes will destroy non stick. Normal riddles are cleaned with a griddle block, not a wire brush anyway.
Answer

this Question
Please help! I burned some food in a Teflon coated aluminum saucepan. I think it is FaberWare. The gray Teflon turned black. Is it still safe to use?
By Tashi from Coastal, NC
Answers
February 25, 2011
0

found this helpful
No throw it away, don't take a chance and ruin your health!
February 26, 2011
0

found this helpful
Teflon is horrible for your health! Toss it! I got 2 wonderful vision glassware skillets from the good will As Is store for $1.00 each; or 50 cents each; work wonderful!
February 28, 2011
0

found this helpful
No and don't buy anymore. I think they should stop making them.
February 28, 2011
0

found this helpful
No, Teflon is unsafe generally and even worse at very high temperatures. Throw all Teflon away and use only stainless steel or glass. I threw mine away finally and am using stainless with oil spray for no sticking. I agree with Lilac that it should not exist.
February 28, 2011
0

found this helpful
Absolutely no! But don't just throw it way! You can recycle it or take the handle off and use as a planter or use it to store small items under your kitchen or bathroom sink. :-)
March 1, 2011
0

found this helpful
Do you mean old fashioned teflon from decades ago or the newer non-stick stuff?
Read More

Answers
I had a sink full of dirty pots and pans when I got called out of state for an emergency. I filled the sink with bleach water and left, planning on being back in a timely fashion. Things went crazy and I ended up being away from home for three weeks.
I came home to the same sink full of pots and pans with a lovely little addition, mold. Now I'm on the brink of throwing out my entire collection of pots and pans. Is there any way to clean these so that they are safe to use or should I just toss them? They are Teflon pots and pans.
By Ashley Culig from OH
Answers
June 12, 2009
1

found this helpful
It seems to me that as long as you scrub them well and wash with soap and hot water a couple of times that they should be fine. If you want to be really, really safe also fill each one as much as possible with water and vinegar, place on the stove and bring the water to boiling for awhile.
June 12, 2009
0

found this helpful
I don't think you need to throw them out. Wash them well in hot water and dish soap. A little bleach in the water or in the rinse water wouldn't hurt, as bleach kills mold. If you have a dishwasher, I would just run them through a cycle, but if you don't, washing in your regular way should be just fine. Mold is not going to have penetrated the teflon or metal pan. It has just grown on the damp surface.
June 12, 2009
0

found this helpful
I wouldn't add bleach to the dishwashing water because it might cause a chemical reaction with some dishwashing liquids. After you wash them, let them soak for 30 to 60 minutes in bleach (about 1/4 cup) to a sinkful of water. If you need some more assurance, put them in the sun for a day.
Read More

Answers
How do I clean off the black "baked on crust" on a Teflon pan? The cause of "crust" is not known.
By jason_bb from Melbourne, Australia

Answers
October 3, 2010
0

found this helpful
I recommend tossing the pan for the simple reason that teflon products flake into the food, and can cause all kinds of medical problems! 100 percent of nursing mothers tested all had the ingredients from teflon in their breast milk sadly; yet our Gov's seem determined to not remove harmful things from the market place, due to the simple fact that they get enormous wealth from taking from us our health!
Cast iron is excellent! the iron which your body needs cooks off into the food making it extremely healthy for you!
Glass is extremely healthy to cook in; look at thrift sales, and stores for vision ware, pyrex and such; this includes your baking pans; yes, I just picked up 2 glass pyrex pie pans for around $1 each at the as is store; also got my loaf and cake pans yards sales;
Revere ware and some stainless steel is most excellent; might check out www.hsn.com; Todd English and Joy Mangano created an excellent green ware; sign up to get emails when they are on; they have great buys, many times flex pay; which means you can pay over several months without any interest at all! And when they have today's specials is when you can really save!
Far better to have to scrub a little and have you and your loved ones healthy!
October 4, 2010
0

found this helpful
I was going to add feedback but MzScarlett covered everything. I got rid of all my teflon and went with stainless.
October 5, 2010
0

found this helpful
How do you prevent food from sticking in a Non-Teflon coated frying pan? We have one S.S. pan that we fried scrambled eggs in and they stuck to the bottom of the pan. (I believe we melted butter in it first and then added the eggs.)
Answer

this Question
How do you get rust off of a Teflon coated baking dish?
By Denise from Benecia, CA

Answers
March 12, 2010
0

found this helpful
Sprinkle some Baking Soda on the rust and then add few drops of vinegar. If there is rust, that means that the TFE has been chipped away. Throw the pan away!
March 15, 2010
0

found this helpful
Yes, if rust is coming through the Teflon coating then it's no longer safe to use for food but instead of throwing it away please, please recycle it somehow! We are way too much of a throw away world :-(
If you don't have a local recycling center that will take it you can always use it for seeding plants, as a potted plant water catcher, an inbox for your desk, to place cleaning supplies in under your sink, etc. The sky is the limit in how you can reuse it! I have a large pot that was doing the same thing and I now use it as a pan to put warm soapy water in to soak my feet when they're sore or before giving myself a pedicure ;-)
You could post another request for ideas for how to use it for crafts, too, and I'll bet you'll receive lots of ideas ;-)
March 15, 2010
0

found this helpful
My daughter has a rusted pan she lines it with aluminum foil or non stick baking & cooking paper paper before she cooks.
Answer

this Question
My husband burnt grease onto my Teflon pan; any ideas how to get that gunk out? I've tried baking soda and peroxide. Any help would really be appreciated.
By Holly from Lancaster, WI
Answers
February 23, 2011
0

found this helpful
Try soaking a few hours with liquid laundry softener.I have also used cream of tartar to simmer awhile and that has worked.
February 25, 2011
0

found this helpful
I have used straight ammonia and that seems to work.
Answer

this Question
Archives
ThriftyFun is one of the longest running frugal living communities on the Internet. These are archives of older discussions.
I have a Jenn-Air gas range, only 3 years old. One side is a Teflon coated griddle. I am unable to remove The black "stuff" that has accumulated in patches on it. The surface has no scratches, it just looks dull and yucky. Any suggestions?
Read More...
I have a relatively new Teflon coated baking pan. Hard as I try, I can't completely clean off the slight residue left by the cooked food. How should I get the residue off?
Read More...
Published by ThriftyFun.
© 1997-2021 by Cumuli, Inc. All Rights Reserved.
https://www.thriftyfun.com/tf704275.tip.html