By guest (Guest Post)
August 28, 2008
0

found this helpful
Hi I cannot tell for sure as the pic is blurry but they look like some my mom gave me. They are tall and have yellow daisy like flowers. My mom said many people used to plant them around their outhouses LOL sorry, no name but the multiply and have rhisomes.
jean in oHIO
By guest (Guest Post)
August 28, 2008
0

found this helpful
Like you say, the picture is a bit blurry but they could possibly be Melampodium. Check the top picture on this link. http://davesgar uides/pf/go/231/
They are an annual and will not come back again if you live in a cold zone. I have had good luck with these by buying the plant some years and other years (like this one) they did not do well. I can tell you they like the heat and our summer has been very cool.
August 28, 2008
0

found this helpful
They look like "Jerusalem Artichokes" to me; they are the ones with the rhizomes; and the rhizomes are edible. You ought to be able to find them; although I had thought that they normally transplant well. You might try again--just be sure you get the rhizome.
By guest (Guest Post)
August 29, 2008
0

found this helpful
They look like the wild flowers in my picture. These are some type of daisies that are abundant in the ditches along our NC country roadsides. They bloom in the Fall and are beautiful. I would also like to know the name of the plants.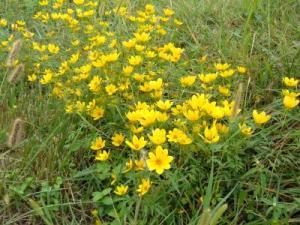 August 29, 2008
0

found this helpful
It might be a good idea to check with a local agricultural representative or park naturalist or someone, just to make sure these are not some noxious weed. We have some very lovely yellow flowers that grow in our ditches, but they are a terrible weed in the pastures and hay fields. Cows or any other animal will not eat them. They are pereniels and spread by self seeding as well. They do not look like your plant, but you should check what this is before you transplant it into your flowerbed. Also, sometimes things that grow quite nicely in the wild can be terribly invasive in ones flowerbeds. I transplanted wild strawberries into my flowerbed, for a nice little groundcover, and they are taking over. I have to rip them out by the handful.
August 30, 2008
0

found this helpful
i agree with the person that said Jerusalem artichokes, or sunchokes. They can be prolific once established, and are indeed edible. Maybe your friend watered them too much as they are drought resistent. For more...
September 6, 2008
0

found this helpful
These flowers are called black or brown eyed susans. They are related to the sunflower, and grow abundantly where I live in KS. The sunflower state, btw. :) I have them all over my yard, they enjoy growing at the edge of fields or forests. Our property is bordered with woods, and these are on the property just where the grass stops and the trees begin.
You can try to plant them elsewhere, but as a wildflower, I might check with your extension first to see if they are categorized as a "noxious weed" where you live.